Yahoo Mail suffered a worldwide outage with users unable to access their email accounts for hours but with the internet making little noise over the issue should alarm bells be ringing for Yahoo?
Website Down Detector was alerted by users complaining of being unable to login or unable to synchronise their account for hours citing a 'temporary error ' message appearing. Of course, there were users who voiced their frustration but it was nothing compared to the online meltdown that ensued during the Skype or WhatsApp outages.
According to Down Detector the outage was identified around 09:30am (GMT) or 4:33am (EST in the US) on 15 January with users airing their grievances on Twitter about the glitch. Some said they simply were presented with a 'spinning wheel' when trying to log in while those who did manage to sign in complained they were unable to retrieve emails.
The outage heatmap from Down Detector shows regions in the world where the most complaints came from with majority coming from the US, western Europe and Japan.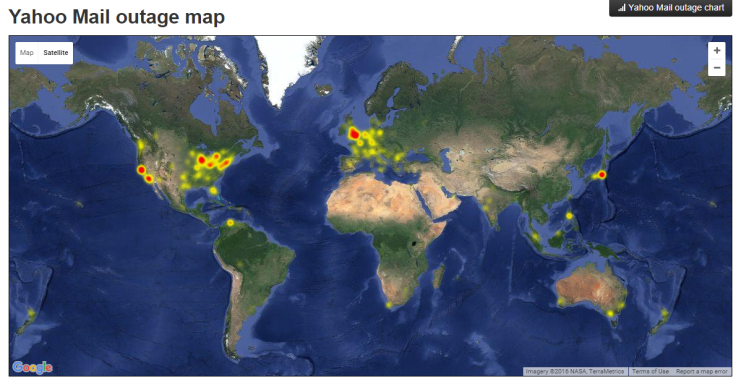 Yahoo Mail is a rival service to Google's Gmail, and Microsoft's Outlook that, as of 2012, claimed to have 281 million users making it the third largest web-based email service.
The service has suffered criticism in the past for its outages with the most notable in December 2013 when users were unable to gain access to emails for two days.
Yahoo is facing a choppy 2016 with the recent news that the once formidable tech player set to axe 10% of its workforce with calls for CEO Marissa Meyer to be replaced as the company stocks continue to slide.
The fact the outage did not even make a blip on social media is a chilling sign of the times for Yahoo. Despite claiming to have hundreds of millions of users, industry watchers have often asked how many of those accounts were actually still active? The outage happened at a peak time for checking emails in both the UK and east coast of the US. But there was hardly a peep from Twitter, which is usually flooded with complaints when a service goes down.
Reddit users made Yahoo Mail the butt of its jokes as a result of this outage with quips such as: "Sucks that those 6 people still using Yahoo Mail don't have email access" or how no one would have realised unless it was posted on the site and one that'll make you LOL which read: "My poor grandma.."
Yahoo Mail appears to be back to full strength at the time of publication. Well, we say 'full strength'...