The United Nations (UN) and World Heath Organisation (WHO) say Yemen is teetering on the "brink of the abyss" as a result of an 18-month conflict in the country in which at least 7,070 have died and 36,818 others have been injured.
Half of all medical facilities in the country have been shut down or are functioning below full capacity and a shortage of doctors means people are unnecessarily losing their lives.
In a report published on 6 November, the WHO said: "More than 14 million people are in need of urgent health services, including 2.1 million people who have been internally displaced. As of 25 October 2016, more than 7,070 people have been killed and over 36,818 injured, according to health facility-based data."
Speaking in Sanaa, UN envoy Ismail Ould Cheikh Ahmed said: "People are dying ... the infrastructure is falling apart ... and the economy is on the brink of abyss." Cheikh Ahmed also warned of a "very dangerous" health crisis, with an estimated 2,241 suspected cholera cases, Al Jazeera reported.
An estimated two million people are suffering from malnutrition in the country, including 370,000 children. One photograph of starving Saida Ahmad Baghili, 18, in the city of Houdieda on the Red Sea, sent shock-waves round the world.
The conflict began when mostly Shia Muslim Houthi rebels took control of parts of the country and entered the capital, forcing President Abd-Rabbu Mansour Hadi to flee. This panicked neighbouring Saudi Arabia, who formed a coalition to oust the Iran-backed rebels. In the ensuing conflict many civilians have died in bombing raids, including some 140 at a funeral in Sanaa on 8 October.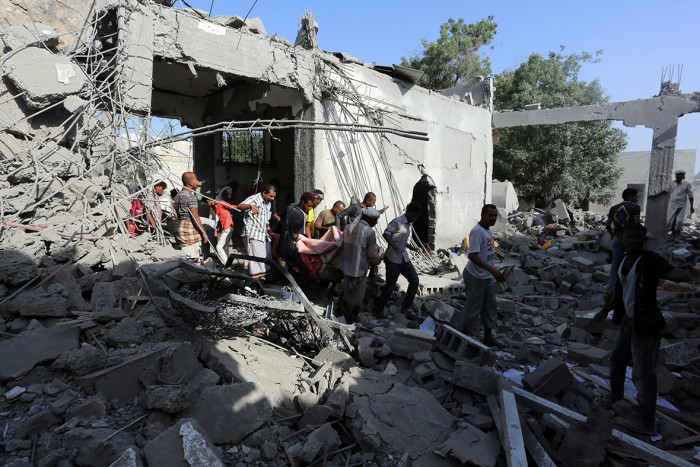 Cheikh Ahmed was in Yemen to present a ceasefire proposal to President Hadi, which he immediately rejected. Speaking in Lebanon, the foreign minister of Iran, which had backed the Houthi, said only a political settlement could bring peace to Yemen.
"We should admit that there is no military solution, neither for the Yemeni crisis nor for the Syrian crisis," Mohammad Javad Zarif was quoted as saying by the Associated Press (AP.) "We believe that continuing to use military methods in order to win the Yemeni and Syrian crises will only lead to more fighting and bloodshed."