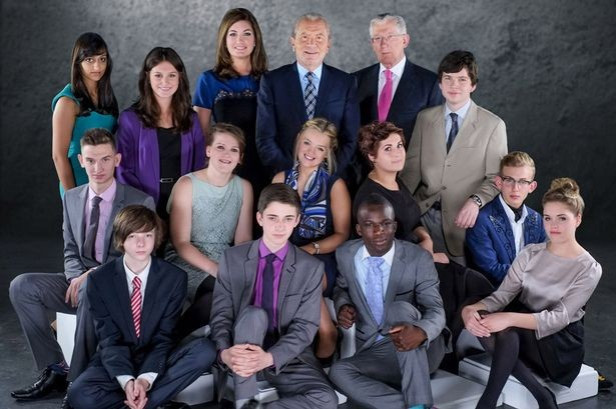 Alan Sugar begins the new series of Young Apprentice with the boast that he knows everything, has seen everything and has done everything.
The first episode sees his 16 and 17-year-old wannabe entrepreneurs tackling the task of re-selling secondhand clothes for a profit.
Straight away, the girls appear to have problems, with Alice Smith, 17, Amy Corrigan, 17 and Navdeep Bual, 16, struggling to use a washing machine.
"Where do we put it?" they ask. "How do we do this?" before putting the clothes that need washing into a tumble dryer. Navdeep says the day is an "incredibly embarrassing experience".
In the boardroom, Nick Hewer describes how Amy sells a jacket to a man who is with his girlfriend at the time. Amy tells him how attractive he will be in it - though his partner does not appreciate the tactic.
The candidates for this year's show believe themselves to be the most business-savvy teens in the country.
Opening the series, the recruits reveal their usual modesty. Sean Spooner, 16, says: "I started my own business at the age of nine, so I really do think it's something that's just grown on me and become something of a natural instinct, like waking up in the morning and running a business is the same thing for me."
Steven Cole, 17, says: "Where I'm from I'm known as the young Alan Sugar."
Maria Doran, a 17-year-old who spends her time brainstorming ideas for new TV shows, reveals her competitive nature. "To underestimate me would be the most silly thing someone could do. Inside I have the heart of a lioness who will take out anybody in her opposition."
David Odhiambo, 17, explains that he is obsessed with wealth and power wants to be omnipotent. He says: "I know I am a natural leader. Men are like dogs, you have to show them who the boss is and then they'll follow."
His views on women and Karren Brady are also made clear: "Girls like to be appreciated. They like someone to tell them that what they're wearing's good, that 'you're hair's nice, you smell nice'. If I manage to flirt with Karren maybe she'll give Lord Sugar a nudge."
In her audition video, 17-year-old college student Ashleigh Porter-Exley promises not exploit other people to make herself look better. "That's one thing I cannot stand. I'm not going to trample on other people and make other people look bad just to make myself look good," she says.
"I do understand that there's really big competition. There are quite a few people with their own businesses, but I've worked four jobs, gone to college and done charity work all at the same time. How many people can say they've done that?"
The winner of Young Apprentice 2012 will receive a £25,000 cash fund to help get their future ventures off the ground. The series starts at 8pm tonight on BBC One.