Celebrity Big Brother viewers have berated transgender newsreader India Willoughby for comparing drag and blackface on Monday night's episode.
The 51-year-old star threw a strop amidst some light-hearted fun when Apprentice star Andrew Brady dressed up as a drag queen with the help of Shane Jenek.
While the rest of the group were in hysterics when Brady emerged in a blonde wig, full make-up and glittery beard with women's clothing, Willoughby stiffened up and fell silent for a number of minutes, attracting the attention of her fellow housemates.
Despite Willoughby being warned about the dressing up beforehand, she left the room and was seen crying in bed before fuming and hitting out at the group for laughing at Brady in spite of her drag phobia.
Explaining why it touched a nerve, she said: "It did [upset me]. Why? I'm a woman, not what [he thinks] a woman! Not a man. A man walked into the room in a dress, and everyone laughed at it.
"I've got something called gender dysphoria, which you can only resolve with medical attention. Someone coming in dressed that way, freaks me out."
Willoughby then compared the incident to blackface, adding: "Transexual people have suffered over the years, a lot of laughter. Probably like the old days when the black-and-white minstrels put on a show... Obviously, black people would find that offensive."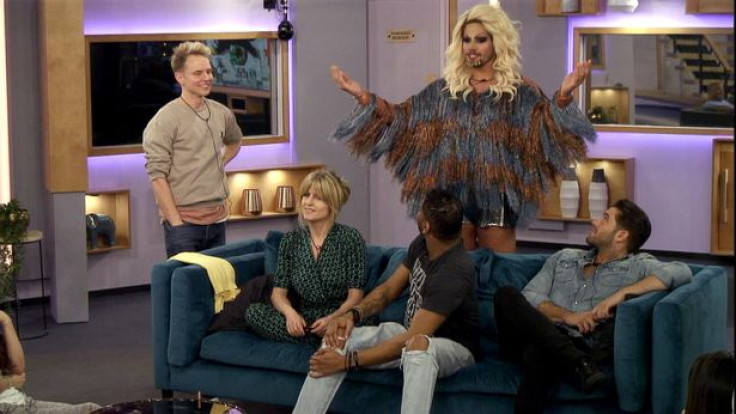 Brady left the room upset and called Willoughby a "f***ing d***head" before going outside for a smoke.
Viewers couldn't believe what they were hearing, with one person tweeting: "India's credibility as a human being was over the minute she compared drag to black face. I have no words. How can someone be so ignorant, speechless. #cbb."
A someone else said: "Anybody notice John Barnes 's face when India said drag queens were as offensive as black face # CBB".
A third added: "comparing drag queens to black face? really sis? you're cancelled. @IndiaWilloughby".
Another social media user defended Brady for dressing in drag to break the stereotypical image of a heterosexual male. They tweeted: "Because women aren't a race, and black face was stereotyping a whole race and showing them as lesser. The intention of the Drag was to demonstrate that because you're a hetro-male doesn't me you can't be feminine which is such an important message".
Celebrity Big Brother continues tonight (9 January) at 9pm on Channel 5.