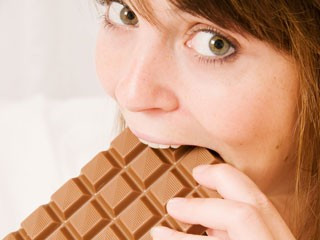 Do you want to become thin without doing much exercise? Then eat lots of chocolate. Chocolate actually reduces fat, according to a report.
Researchers from the University of California have discovered that chocolate can reduce fat; they found that adults who eat chocolate on a regular basis are actually thinner than people who consume less chocolate.
Researchers who conducted a survey on 1,000 adult men and women in San Diego, examined volunteers' dietary information, weight and height. They found that adults who ate chocolate on more days a week were actually thinner - ie had a lower body mass index - than those who ate chocolate less often.
Researchers believe that some ingredients in chocolate could be the reason behind the weight loss. They also found that chocolate is rich in catechins, an antioxidant. Cathechins plays a role in preventing heart disease and cancer.
"Our findings appear to add to a body of information suggesting that the composition of calories, not just the number of them, matters for determining their ultimate impact on weight," said Beatrice Golomb, MD, PhD, associate professor in the Department of Medicine at the University of California, San Diego, in a statement. "In the case of chocolate, this is good news - both for those who have a regular chocolate habit, and those who may wish to start one."