The UK government has confirmed it is involved in a political and legal wrangle between a London firm and Bangladesh's state-owned telecommunications company over an unlawful disconnection ordered by a controversial minister.
Zamir Telecom, which is based in Canary Wharf, was cut off from the south Asian state's network by the Bangladesh Telecommunications Company Limited (BTCL) in March 2014, causing it significant financial harm.
The move came on the instruction of Abdul Latif Siddique, Bangladesh's telecoms minister, who has since admitted that the disconnection he ordered was illegal.
"UK Trade & Investment is aware of the difficulties being experienced by Zamir Telecom in their business dealings with BTCL," said a department spokeswoman to IBTimes UK.
"We understand that the dispute is subject to ongoing legal proceedings in Bangladesh, it would therefore be inappropriate to comment in detail on this case.
"However, officials from UKTI are in touch with the company. Given the crucial importance of transparency in effective decision making, UKTI and the British High Commission in Dhaka have also raised the issue with the government of Bangladesh.
"The bilateral commercial relationship between our two countries is strong and trade thrives when a stable, transparent business environment gives companies the confidence to plan for long-term trade and investment."
The disconnection is unlawful because it breaches a 2010 court order overturning a similar disconnection of Zamir Telecom.
After the firm's lawyers pursued the latest disconnection through the courts, judges ordered the immediate reconnection – another order that has been ignored.
The disconnection is purportedly over an invoicing dispute between BTCL and Zamir Telecom.
But judges said the dispute, which is in an arbitration process, does not make cutting Zamir Telecom off from the network lawful.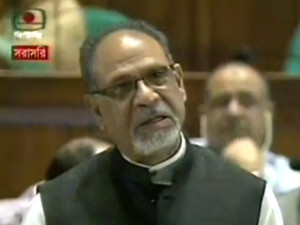 Now after ignoring the latest order for reconnection, Zamir Telecom is awaiting another court appearance to hear BTCL's mystery justification for its decision.
Under Bangladeshi law, those found in contempt of court can get a maximum six months prison sentence and a fine.
Naufal Zamir, owner of Zamir Telecom, believes the disconnection is to serve as a distraction from BTCL's weakening financial results, haemorrhaging of customers, and reports of corruption.
He also thinks his father's close links to the opposition party in Bangladesh may be playing a part, because the ruling Awami League government fear money flowing from successful businesses to political campaigning against them.
Zamir's father, Zamir Uddin Sarker, has held a number of senior ministerial posts and been speaker of the Bangladeshi parliament. He is still involved in politics.
Siddique, the minister responsible for overseeing BTCL, is a controversial figure in Bangladesh politics.
He has been accused of beating an engineer with a stick at his home, threatening to have striking workers shot, and was in charge of the textiles ministry at the time of the Rana Plaza disaster.
According to Transparency International, Bangladesh is one of the most corrupt countries on the planet.
A recent report by the charity claims that 2000cr Bangladeshi Taka (£153m , $258m, €186m) has been lost from BTCL accounts through corruption over six years.