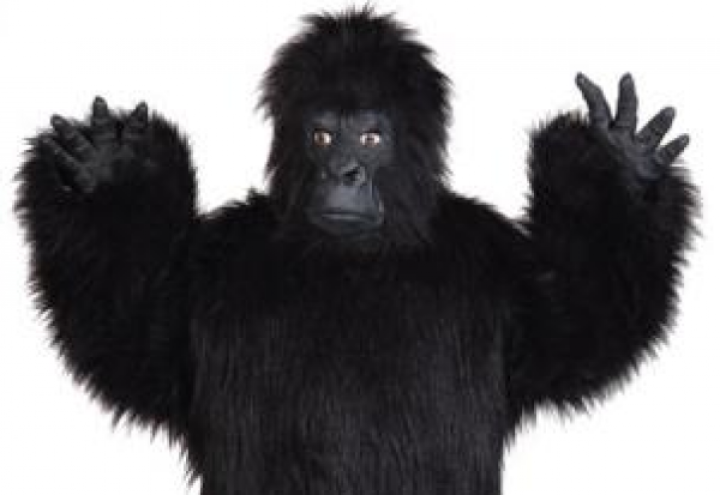 A man wearing a gorilla costume needed hospital treatment after a zoo vet mistook him for a real hairy ape and shot him with a tranquilizer rifle.
The amusing case of mistaken identity was a bit of monkey business gone seriously awry for the victim, at Loro Parque Zoo in Tenerife.
It happened when the zoo on the popular holiday island carried out an emergency drill to test its procedures for dealing with an escaped gorilla.
Unfortunately for the worker who took on the role of an on-the-run ape, nobody had told the zoo vet.
So when the animal expert spotted what appeared to be an escaped gorilla marauding through the park, he reached for his rifle and took aim with enough sedative to bring down a 400lb silverback.
The dart hit the unfortunate worker in the leg and soon began going to work. Colleagues later found him dressed only in his underwear and quickly called for emergency help.
After the incident, last week, a zoo spokesman said: "Loro Parque, like all zoos and animal parks, regularly carries out this kind of emergency drill.
"The measure is designed to improve security, emergency procedures, and to train staff who work in these enclosures.
"Last Monday, Loro Parque simulated the escape of an animal from its enclosure in the gorilla park.
"As part of the simulation, which took place in the security zone of the area and was attended only by authorised personnel, they set off the emergency alarm.
"Once they had carried out the various procedures, one keeper in the wild mammals team was accidentally struck by the medical tranquiliser that vets use in these instances."
The victim went on recover from his experience.
In light of the amusing incident, why not test your knowledge and see if you can spot the real gorilla from the imposter? If so, a job as a zoo vet could beckon.