The 10 Most Overcrowded Train Journeys in the UK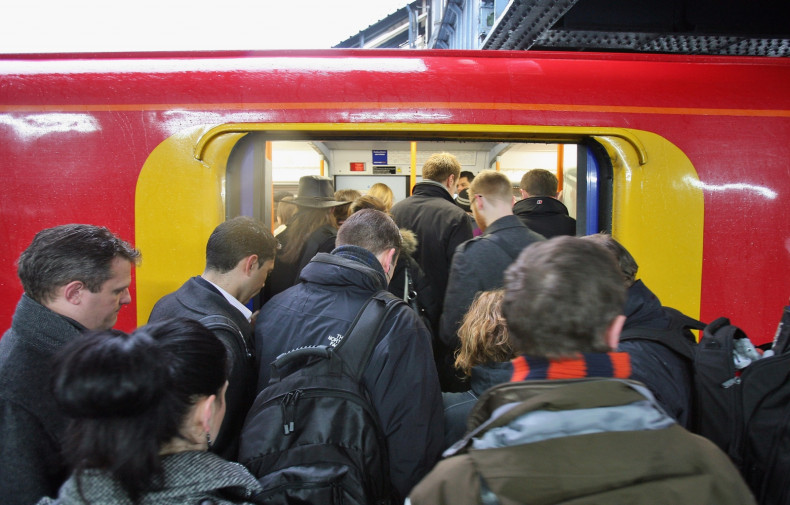 A rush-hour train service between London and Crewe has been named as the most overcrowded journey in the UK, according to the Department of Transport.
The London Midland train setting off from London Euston at 16.46 towards Crewe was found to hold more than double its standard-class seating capacity as 435 people squeezed into carriages that only hold 206.
The next most overcrowded journey was one going into London, as more than 1,200 commuters cram into the 07.32 service from Woking to London Waterloo despite it only having 738 seats.
Elsewhere, journeys between Manchester Airport and Middlesbrough and Oxford to Paddington also made the list after travelling with more than 50% of their seating capacity.
In 2012, the most overcrowded journey – the 08.27 service from London Heathrow to Paddington – had 786 people on carriages with space for 476.
Transport Minister Claire Perry said the latest statistics, based on journeys in 2013, show more needs to be done to provide passengers with seating on their train journeys.
She said: "Since 1995 passenger journeys on the railway have more than doubled, with 1.6 billion journeys being recorded in the last year. This means that on too many journeys, passengers have to stand in cramped conditions. Train operators must act now, they must find new ways to create space on the network and in their trains."
"We are investing more than £38bn in our railway delivering more trains, more seats and more services and we are pushing ahead with plans for a national high-speed rail network that will help solve the problem in the long-term. I understand the frustration of rail passengers forced to stand on busy services and that is why I am calling on the operators to do more."
Ten Most Overcrowded Train Journeys In The UK (figures from autumn 2013)
1. 16:46 service from London Euston to Crewe 229 passengers in excess of its capacity of 206 (load factor 211%)
2. 07:32 service from Woking to London Waterloo 540 passengers in excess of its capacity of 738 (load factor 173%)
3. 07:21 service from Oxford to London Paddington 176 passengers in excess of its capacity of 242 (load factor 173%)
4.18:33 service from London Paddington to Heathrow 330 passengers in excess of its capacity of 476 (load factor 169%)
5. 06:30 service from Manchester Airport to Middlesbrough 109 passengers in excess of its capacity of 166 (load factor 166%)
6. 18:13 service from London Euston to Birmingham New Street 473 passengers in excess of its capacity of 738 (load factor 164%)
7. 06:07 service from Banbury to London Paddington 348 passengers in excess of its capacity of 608 (157%)
8. 06:30 service from Scarborough to Manchester Airport 93 passengers in excess of its capacity of 166 (load factor 156%)
9. 06:28 service from Nottingham to St Pancras 212 passengers in excess of its capacity of 386 (load factor 155%)
10. 07:00 service from Oxford to London Paddington 127 passengers in excess of its capacity of 241 (load factor 153%)