Deadpool is keen to get Marvel fans into the festive spirit by the looks of things, despite the 20th Century Fox film being released on 4 February 2016 in the UK (12 February in the US), as it continues to offer up promotional treats in their advent calendar-type countdown of all things Wade Wilson in the run-up to Christmas.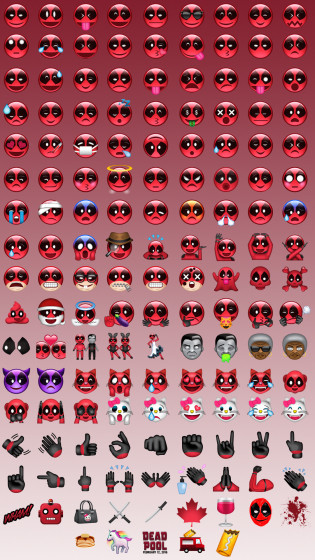 Across the marketing campaign, the studio has released two brand spanking new posters, some fresh images, and Deadpool's personal Santa wishlist from an exclusive interview to a feature, leading up to the grand unveiling of a new trailer on 25 December.
The latest delight to have been released will likely please owners of any kind of mobile device that were not too enamoured with Kim Kardashian's Kimoji, as teaming up with Mashable, Fox unveiled its own Deadpool-themed emojis that can be downloaded for free, available on Apple devices, and Google Play handsets.
The first day of the promo roll-out, which began on 14 December, was a poster that showcased a little more Ryan Reynolds than people would initially expect to see. The following day, fans were treated to a rolling GIF of the actor posing with a cardboard cut-out of the character he plays in the upcoming film, dressed up like Santa.
The fourth saw Empire magazine release an exclusive image of Deadpool creating some graffiti, while the fifth played host to another new poster, but this time red suited-and-booted Reynolds was wearing an ugly sweater. Perfect for the Christmas season.
Other things that have featured in the campaign include a Season's Greetings card sent from Deadpool, as well as – we're assuming – a make believe snippet of the film's final script with Wilson's humorous scribbles all over the text.
Arguably one of Marvel Comics' most popular characters, anti-hero Deadpool was originally Wade Wilson, a former wild child turned Special Forces operative who becomes the subject of an underground organisation after they attempt to harness his fighting skills and turn him into a human weapon through various harmful methods. But their experiments leave him with accelerated healing powers and heightened skills – the perfect combination to exact revenge on those who made him this way, don't you think?
"The movie focuses on Wade's relationship with Vanessa [Morena Baccarin] and it's actually a great love story," director Tim Miller told EW, referring to Wilson's girlfriend in the movie. "But we don't punt the issue of his sexual urges. It's in the comic and it's in our film."
To get an idea as to what else 20th Century Fox has in store for the next couple of rounds of 12 Days Of Deadpool and where to look out for their release for, watch the trailer below...
For more entertainment news follow A-List on Twitter @Alistinsider