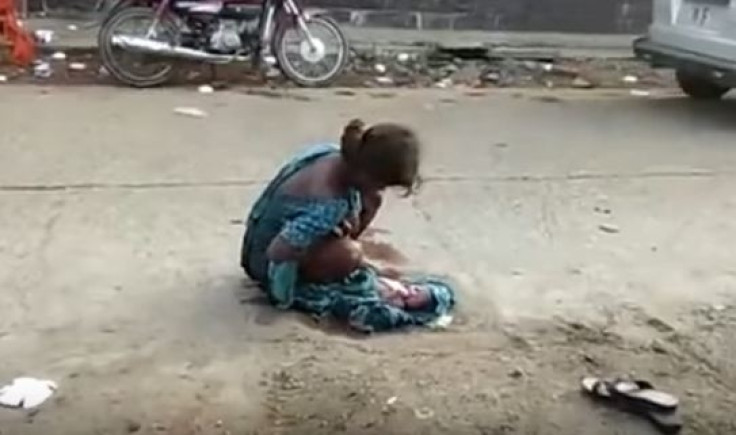 A 17-year-old Indian girl was found drenched in blood on a street after she delivered her baby. The girl, who cannot be named because of legal issues, was forced to give birth on the street after the health centre staff reportedly declined to admit her.
According to reports, the girl from Saraikela-Kharsawan district of India's Jharkhand state was in a relationship with a man from her village. But when she fell pregnant, her lover abandoned her. The family of the girl also disowned her fearing social stigma and pressure from community leaders.
Since then, the unwed teen was living on the streets. On Monday (21 August) she was seen going into labour. Although the girl reportedly approached the local health care centre for help but they refused as she was alone.
But on Tuesday, she was found lying in the pool of blood with her new born baby by one of the local residents. The girl reportedly gave birth on the busy streets.
Om Prakash Sharma, who found her, told The Hindustan Times that the girl was on the street with a newborn in her lap with the umbilical cord still attached and her clothes were drenched in blood.
He said: "She was in a miserable state. She was shivering and unable to lift and cuddle her infant. Heavy vehicles were crossing by but she didn't have the strength to move aside.
"Eventually, we put roadblocks around her and approached the Chandil Sub Divisional Hospital (CHC) to take away the mother-child. Their response was irritating."
The 50-year-old samaritan said that the health centre refused to help, saying they need permission from their chiefs as well as the girl's family before admitting her.
"We then informed the police," Sharma said, adding which prompted a doctor named Dr Lakhindra Hansda of the hospital to rush out and cut the child's umbilical cord.
Almost after two hours of ruckus, the girl was admitted finally.
Dr Lalita Kashyap, a medical officer, at CHC, said: "Whatever has happened was wrong and unfortunate. There were only two nurses at the health centre, who were busy delivering twin babies when we were informed about the girl."
"There was some confusion but we will certainly look into this."
The girl and baby are now stable and being shifted to a women's shelter home, Dr Hansda said, adding: "Both mother and baby are now doing fine. We will inform her parents and hopefully she will get the support she needs."