Malaysia's longest ever serving prime minister has called on the international community to be more critical about the current government head Najib Razak's alleged involvement in the multi-billion dollar embezzlement accusations of the 1MDB state fund that have scandalized the country.
Mahathir Mohamad has also called for the Malaysian people to take to the streets in peaceful protest as the scandal continues to unravel, with the US Justice Department seizing more than $1bn (£760m; €910m) in assets allegedly stolen from 1MDB earlier in July.
Mohamad, who was prime minister for 22 years, told the Australian broadcaster ABC: "I know most foreign countries are reluctant to come out straight away and say that the prime minister is the one who is guilty of all of these things."
The US prosecutors did not name Razak last week, although they did accuse people close to him, including his stepson, whom they say purchased more than $1bn in assets with money stolen from the 1MBD fund.
The US Justice Department said that the money was siphoned to buy lavish properties, including a mansion in Los Angeles and a private jet and the rights to the Hollywood film the Wolf of Wall Street.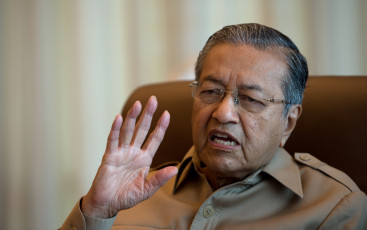 Mohamad also told ABC there should be a referendum on his leadership.
"The fact is that he has a strong stranglehold on the government so how do we use the laws of the country to remove him?" Mohamad said.
Meanwhile, on Monday (25 July), managing director of Singapore's central bank, Ravi Menon, said the reputation of the city state had been dented due to shortcomings in money laundering controls that allowed funds linked to the 1MDB fund flow into banks in Singapore.
The Monetary Authority of Singapore (MAS) criticised UBS Group AG, DBS Group Holdings and two other banks for weaknesses in anti-money laundering controls linked to 1MDB transactions, Bloomberg reported.
Menon said: "We may not be any worse than other jurisdictions but that is no consolation. We have not met the high standards we have set for ourselves," he told a press conference.
"Our business is to investigate financial transactions that took place in and through Singapore that were suspicious," he added.
The scandal came to light in July 2015 when the Wall Street Journal reported US$700m (£532m; €637m) from the fund had been allegedly siphoned into Najib's personal bank account, which he denies.