A four-year-old schoolgirl and her father were killed after a bomb went off outside a school in southern Thailand. The bomb was reportedly hidden in a motorcycle and was detonated on Tuesday (6 September) as teachers and students started entering the school premises.
Police said that eight people were injured in the blast in the Thai-Malaysia border town of Tak Bai in Narathiwat province – a Muslim-dominated province.
The bomb was planted in the fuel tank of a motorcycle that was parked opposite the Thai Elementary School entrance. It went off when parents were dropping their children at the school in the morning.
"We suspect this to be the work of people who want to destabilize the situation and cause chaos," Yuthanam Petchmuang told Reuters. He is the deputy spokesman for the army's Internal Security Operations Command.
Police Lieutenant Colonel Noppadon Kingthong identified that deceased as Mayeng Waba and his four-year-old daughter as Mitra. They died on their way to the hospital.
This is the latest blast in a series of attacks that has troubled the southern part of the Buddhist country.
"The bomb is an attempt by militants to incite unrest and aimed to kill... indiscriminately as shown by the four-year-old victim," AFP cited Colonel Pramote Prom-in, spokesman for the Thai army in the south, as saying.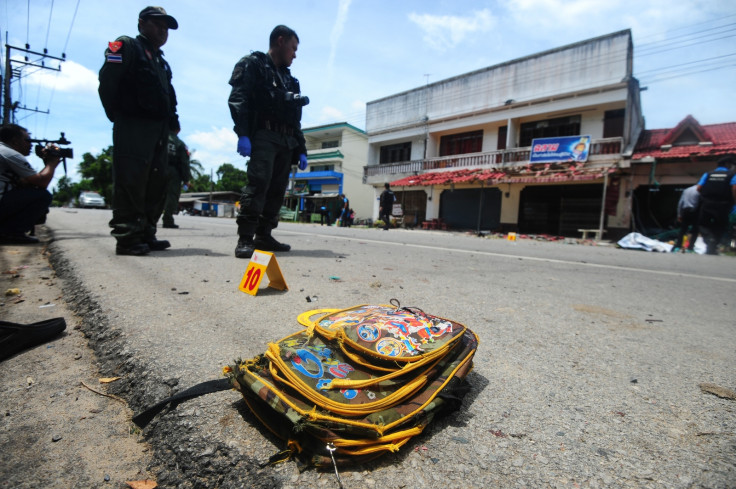 The attack is reported to have taken place just a month after a wave of bombings in August killed four and injured scores of people in the tourist towns of Hua Hin, Phuket and Surat Thani. On Monday (5 September), Thai police arrested a suspect with alleged links to Muslim separatists in connection with last month's attacks.
The military government has assured of beefing up security measures ahead of the Muslim holiday of Eid al-Adha on 12 September, Defence Minister Prawit Wongsuwan told reporters.