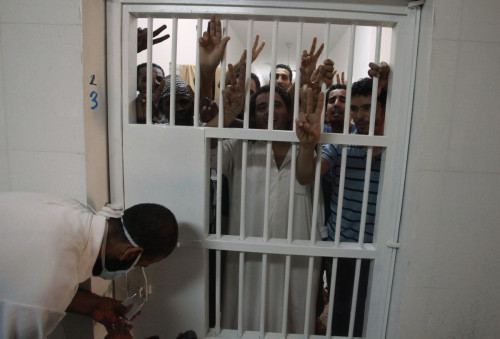 Libyan officials report that 92 prisoners have escaped from a prison in Zliten, 42km east of Tripoli, the Libyan capital, due to lax security.
Hassan bin Sophia, a spokesman for the Zliten local council, said only four guards were watching 220 criminal and political detainees at the jail on Friday.
"Poor security in the town's prison encouraged inmates to riot, break down the prison's gates and escape," Sophia told Anadolu Agency.
On Friday, the prisoners asked for a doctor and when the prison gate was opened, they attacked the guards and escaped, according to AP.
Two prisoners were wounded when guards opened fire and 19 prisoners were recaptured, said Sophia. Local officials are contacting the families of the escaped prisoners to persuade them to surrender.
Sophia said the jailbreak had nothing to do with reports of a failed coup attempt against the interim government of Prime Minister Ali Zeidan.
Zeidan has denied reports of a military coup after retired military commander Major General Khalifa Haftar had claimed his forces had seized key military sites.
Appearing on television in military uniform, Haftar has also called for the dissolution of Libya's parliament and interim government.
But Zeidan insisted that Libyan security agencies were in full control of the situation on the ground.
He added that he had instructed the Defence Ministry to "take all necessary measures" against Haftar, going on to call for public support for the government and the country's interim parliament "to steer the country to safety".
Libya has experienced a security vacuum since the 2011 overthrow of Muammar Gaddafi. Earlier this month, 54 detainees escaped from a prison in the capital Tripoli.
The prisoners smashed the building's rear protective windows while guards were distributing the inmates' breakfast. Judicial Police Lt. Col. Ahmed Abu Kara said the prison was short of five guards at the time of the breakout.
Abu Kara claims that jails overseen by the Judicial Police have been hit by repeated prison breaks. In July, over 1,000 detainees escaped from al-Kweifiya prison near the eastern city of Benghazi.