Radical cleric Abu Hamza has lost his last-ditch high court appeal against extradition to the US to face terrorism charges.
Hamza was one of five terror suspects who launched the appeal after the European Court of Human Rights effectively gave Britain permission to extradite the men.
The other suspects, Babar Ahmad, Syed Talha Ahsan, Adel Abdul Bary and Khaled al-Fawwaz, also lost their appeal.
The Home Office welcomed the ruling and said the suspects would be extradited as quickly as possible.
The verdict brings an end to an expensive eight-year battle to send Hamza to the US.
His lawyers argued that he should not be extradited because his health was deteriorating. Alun Jones QC said Hamza was suffering sleep deprivation and depression after years of imprisonment at a high-security prison.
Judges Sir John Thomas and Mr Justice Ousley at the high court said they were "wholly unconvinced" Hamza wa unfit to stand trial in the US.
Thomas had previously dismised the claims from Hamza's lawyers. "If he is at risk of a degenerative condition, the sooner he is put on trial the better," he said.
In their ruling granting his extradition, the judges said there was an "overwhelming public interest in the functioning of the extradition system".
No further appeals are permitted.
"Each of the claimants' applications for permission to apply for judicial review or for a re-opening of the statutory appeals be dismissed," said the ruling.
"It follows that their extradition to the United States of America may proceed immediately."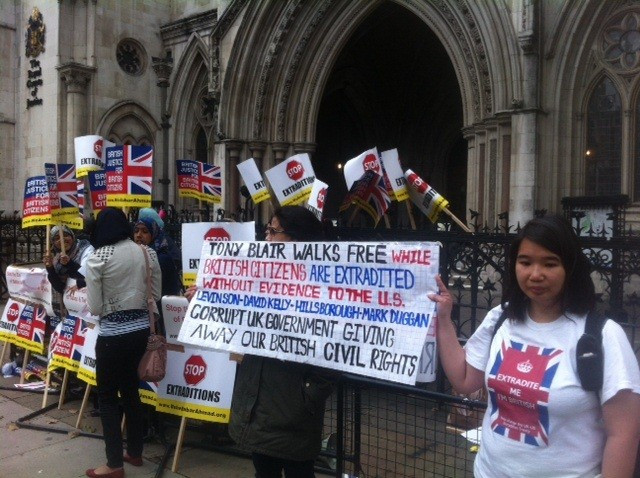 Moral Victory
After the verdict, a spokesman for Babar Ahmad said on his behalf: "I have lost my eight-year and two-month battle against extradition to the US.
"By exposing the fallacy of the UK's extradition arrangements with the US, I leave with my head held high, having won the moral victory."
Ashfaq Ahmad, father of Babar Ahmad, said: "After over 40 years of paying taxes in this country, I am appalled that the system has let me down in a manner more befitting of a third world country than one of the world's oldest democracies.
"It seems that the Metropolitan Police, the CPS and even the court have all colluded to implement a pre-determined decision which was made in Washington.
"We will never abandon our struggle for justice and the truth will eventually emerge of what will be forever remembered as a shameful chapter in the history of Britain."
Ahmad is accused of running terrorist-funding websites along with Ahsan.
Hamza, who was jailed for seven years for soliciting murder and inciting racial hatred, has been fighting extradition since 2004. He argued that they would face inhumane treatment in the US.