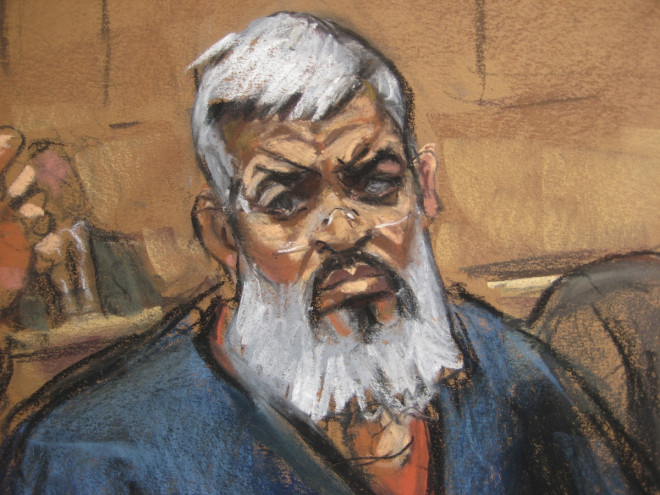 Hate cleric Abu Hamza worked in secret for Britain by doing tasks for the Secret Service MI5, it was claimed at his trial, in New York.
The claim about Hamza's moonlighting for UK authorities comes as a surprise, considering his long record as an Islamist whose preaching called for an Islamic caliphate to replace the British state.
Lawyers for the hook-handed hate-monger attempted to introduce evidence from Scotland Yard, supposedly showing Hamza helped "keep the streets of London safe" by calming tensions and helping to bring to an end a 1998 kidnapping ordeal in Yemen.
It came at Hamza's trial on 11 terror charges in the United States, which he denies. Hamza – real name Mustafa Kamel Mustafa – is accused of aiding terrorists during the 1998 incident in which four western hostages were killed.
The judge rejected the evidence as inadmissible.
Evidence was also heard from one of the 16 westerners taken hostage in the Yemen by Islamic militants in 1998, who claimed Hamza was involved in the hostage operation.
The New Zealander, Mary Quin, who gave evidence, told how she survived and later travelled to visit Hamza at the mosque in London where he preached.
She secretly recorded a conversation she had with Hamza in which he said killing civilians was justified in defence of Islam and answered "yeah, perhaps" when she asked if he had given a mobile phone to militants.
US prosecutors allege Hamza provided a mobile phone topped up with £500 of credit to kidnappers led by Abu Hassan.
Hamza was extradited to face trial in America in 2012, following a legal fight lasting years.
He has pleaded not guilty and the trial continues.