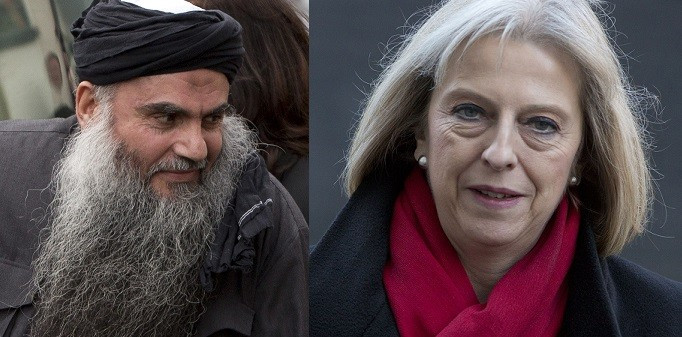 Home Secretary Theresa May says the government is open to the possibility of abandoning the European Convention of Human Rights in its latest bid to deport Abu Qatada.
Speaking to MPs following the latest setback in her ongoing attempt to deport the radical cleric, May confirmed a new legal agreement has been signed with Jordan which could allow the government to finally secure the deportation of Qatada.
May told the Commons she believes once the new treaty is passed, it should provide sufficient evidence to the courts that evidence obtained through torture will not be admitted at Qatada's retrial for terrorism offences on his return to Jordan.
May added that, despite the new deal with Jordan, it could still take "many months" for the man once described as Osama bin Laden's right-hand man in Europe to actually be deported, during which time he should remain "behind bars".
Yesterday, the court of appeal that ruled May could not take the Qatada case to the Supreme Court. Following this decision, reports suggested May had discussed the possibility of temporarily leaving the ECHR with Prime Minister David Cameron.
May has now confirmed that this option is under consideration, saying: "We should have all options, including leaving altogether, on the table.
"The Prime Minister is looking at all the options. That is the only sensible thing to do."
Discussing the treaty with Jordan, May added: "I have signed a comprehensive mutual legal assistance agreement with Jordan.
"This agreement is fully reciprocal, offers considerable advantages to both countries, and reflects our joint commitment to tackling international crime.
"It covers assistance in obtaining evidence for the investigation and prosecution of crimes in either country, and provides a framework for assistance in the restraint and confiscation of the proceeds of crime.
"The agreement also includes a number of fair trial guarantees. These would apply to anyone being deported from either country. I believe these guarantees will provide the courts with the assurance that Qatada will not face evidence that might have been obtained by torture, in a retrial in Jordan.
"I believe that the treaty we have agreed with Jordan - once ratified by both Parliaments - will finally make possible the deportation of Abu Qatada.
"But as I have warned the House before, even when the treaty is fully ratified, it will not mean that Qatada will be on a plane to Jordan within days."
In November, Qatada was released from prison one day after winning a previous attempt by May to have him deported to Jordan.
Qatada was convicted in his absence in Jordan of involvement with terror attacks in 1999 and sentenced to life imprisonment. These are the charges for which he faces a retrial.
Qatada has also featured in hate sermons found on videos in the flat of one of the 9/11 bombers.