Hollywood veteran Susan Sarandon's tongue is still as sharp as ever. In an appearance at the Cannes Film Festival, she blasted Woody Allen's relationship with his adoptive daughter, Donald Trump's hate-mongering and Hollywood's current crop of "sexist" bosses who she said would never have created breakthrough feminist film, Thelma and Louise, in today's make dominated industry.
She first weighed in on the controversy surrounding film director Woody Allen, who has been accused by Dylan Farrow, his adoptive daughter with Mia Farrow, of sexual abuse — an accusation Allen has called "silly."
"I think he sexually assaulted a child and I don't think that's right," Sarandon, 69, said during the Women in Motion talk sponsored by Kering and Variety with Thelma & Louise co-star Geena Davis at the Cannes Film Festival. "It's gotten very quiet in here, but that's true."
Said the Oscar winner about Allen, whose film Cafe Society debuted at Cannes: "I have nothing good to say about him."
It was a bleak culmination of a bad week for Allen. At the premiere of the new film, French comedian Laurent Lafitte indicated in a joke that Allen was like Roman Polanski, on the run from a US rape conviction, saying: "It gives me pleasure to see you because you've filmed so much in Europe and you haven't even been convicted of rape in the USA."
The same day the Hollywood Reporter ran a piece written by Allen's estranged son and Dylan's brother Ronan Farrow criticising the media for not taking Allen — whom he refferred to as a "predator" — to task on Dylan's claims.
But Sarandon was hardly finished. When asked what a Trump presidency would look like, Sarandon said she did not imagine the presumptive Republic candidate would win because "he's alienated so many minorities and women," saying that even if he wins, it will be impossible for Trump to actually accomplish his outlandish plans.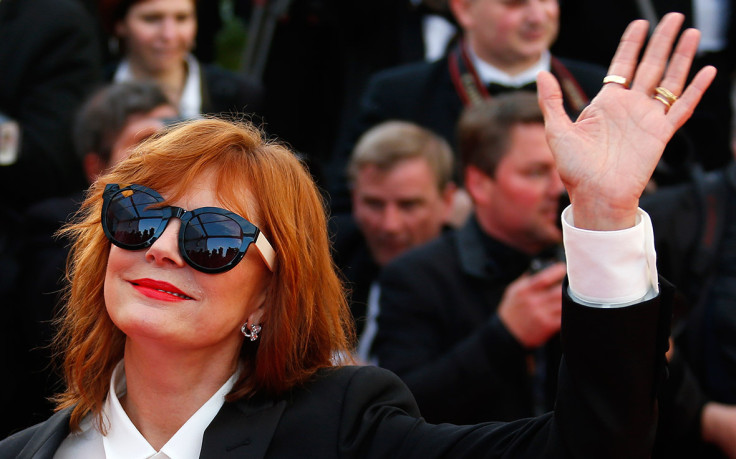 "They're not what's threatening," Sarandon explained, according to the Guardian. "He's obviously not going to build a wall" between the US and Mexico as he has threatened to do. "He not going to be able to export all the Muslims in the United States. All of those things are impossible to do," she added.
"What he did that was terrible is that he legitimatized racism and homophobia in order get that very discontented base that wants something authentic. What he did in the process was say, 'It's OK to be violent.' That's why he has the KKK as one of his representatives. That's been really terrible, besides the fact that America looks ridiculous."
Sarandon, a staunch Bernie Sanders supporter who still believes he has a chance to become the Democratic candidate, did not let Hillary Clinton off the hook either. Referring to the ongoing probe into Clinton's use of a personal email server while she was secretary of state, Sarandon noted: "I think a lot can happen besides the fact that [Clinton] can be indicted at any moment."
In her final blast, Sarandon said 1991 runaway hit movie, Thelma and Louse - in which she starred alongside Geena Davis - would never be made today because of Hollywood's sexist bosses.
"I don't think the studios have fallen off their horse and had some kind of epiphany about women in film," she said according to Variety . "After Thelma and Louise, they predicted there would be so many films starring women. That really made a lot of money. But it didn't happen."
There are still "many more male executives making these decisions. Whereas women can see a woman or a man in a leading role, I don't think it's as easy for a guy to see a woman in a leading role and say I'll get behind that," she said.
"I think it's a cultural thing, and that's part of what slows it down: a lack of imagination on the part of men."