Airbnb blunder advertises floating accommodation as Hurricane Harvey floods Houston
Poorly-timed email encourages customers to "stay above water" in marketing mishap.
Property sharing service Airbnb has made a marketing stuff-up after sending a poorly-timed email to its customers promoting floating homes and telling them to "stay above water" at the same time Hurricane Harvey flooded Houston.
The email, which was sent out over the weekend, advertised a number of water-themed holiday homes from riverboats to seaside attractions, describing "how to spend a day without touching dry land" and encouraging customers to "live the life aquatic with these floating homes".
As the US state of Texas has become engulfed in water dumped by 'once in 500-year' rain, claiming multiple lives, destroying thousands of homes and causing billions of dollars of damage, Airbnb's promotion of floating accommodation was not well-received.
Those who received the email on 26 August took to Twitter to voice their criticism of the campaign and its unfortunate timing, saying it's "maybe not the best email to send to Texas this morning".
"The timing of this email marketing campaign was insensitive and we apologise for that," Christopher Nulty, an Airbnb spokesman, told Quartz in an email. "We continue to keep everyone affected by Harvey and all the first responders and their families in our thoughts."
The promotion appears to be a simple oversight and has since been pulled by Airbnb as the service continues to commendably aid victims as it helps house residents forced from their homes or are desperately seeking shelter during extreme events.
Its 'disaster response' program works with Airbnb hosts who open their doors to emergency workers and displaced individuals for free. Currently there are over 250 free accommodation listings on the Airbnb site for those affected by Hurricane Harvey.
Airbnb was also recently lauded for its efforts to stamp out the far right from using its service after it deleted the accounts of known supporters who attempted to rent properties to hold 'Nazi-themed parties' at the Unite the Right rally in Charlottesville, Virginia.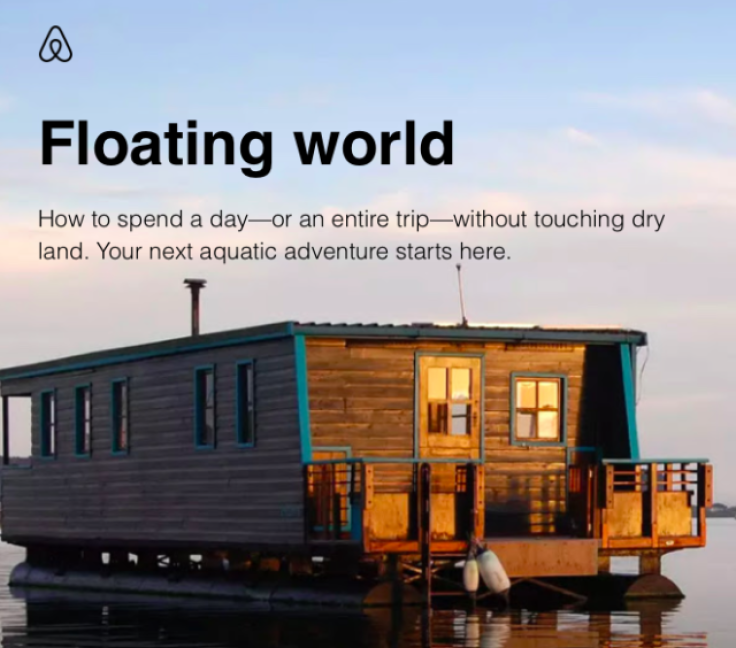 © Copyright IBTimes 2023. All rights reserved.