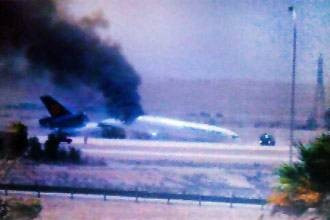 Arab TV network, Al-Jazeera has confirmed that a cargo plan carrying no passengers has crashed, leaving the pilots hospitalised near Riyadh airport.
Christoph Meier, Lufthansa head of corporate communications for southeast Europe, Africa and the Middle East said that a freight plane travelling from Frankfurt was involved in an incident at the airport in the Saudi capital at 11.38am, after landing with 80 tonnes of cargo on board.
The Saudi authorities say no casualties have been reported.
"The firefighters are containing the fire," said a spokesman for the General Authority of Civil Aviation.
The news follows May's crash in Tripoli, Libya which was enroute to Heathrow.