England one-day captain Alastair Cook has hailed all facets of his side after claiming their 10th successive victory in the 50-over game by crushing Australia by seven wickets at Old Trafford.
The win completes an emphatic 4-0 series victory over Australia, thrusts England into third in the one-day world rankings and delivers a psychological blow to Michael Clarke's side ahead of next summer's Ashes series.
Having restricted Australia to less than 260 in all four innings, England's bowlers, led by Steven Finn, dominated the top order, while the likes of Ian Bell and Ravi Bopara produced impressive displays following previous failures against the tourists.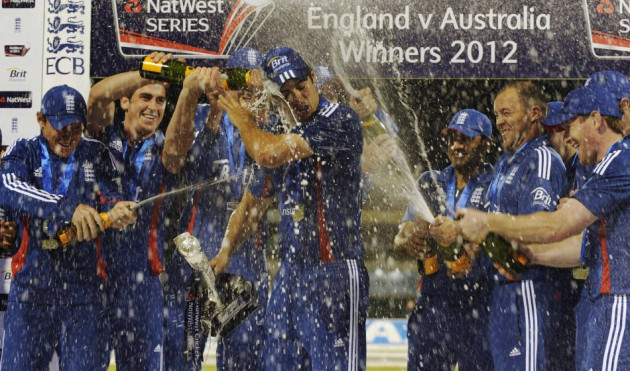 Cook said: "It's great to win the series, it's been a great effort by the lads and we never let up really throughout the four games we've played; we've always been at Australia and we've always tried to put them under some pressure.
"The way the lads bowled, to set the tone early doors again, it's easier said than done by the lads did it and it's at huge credit to them.
"The main batters did the batting to win that game and the lads did that again. I think someone said the No.7 hasn't had a bat in this series so it shows the top order have had a good series.
"Momentum can build very easily in these one-day series and I think it showed that we knew we could get on top of them after the first couple of games.
"We knew the third and fourth game that our formula was working against them, we executed those skills well and they didn't have anywhere to go and that's where the momentum helps and it's quiet hard to stop.
"We've all been on the end of it the other way when you enter a game and you haven't been winning game the harder it is to change."
Bell, who was the top scorer in the series, accumulating 189 runs at 47, said: "We were helped by the bowlers.
"They set the tone a lot of the time and it was nice to chase perhaps slightly lower totals. "(Opening) probably suits my style more than lower down the order, I've got a nice partnership there with Cookie and if we can carry on that form it'll be good for the future."