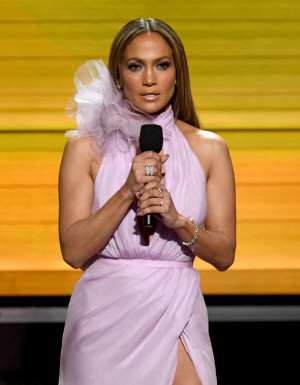 Jennifer Lopez addressed the audience at the Grammy Awards on Sunday (12 February) with a politically-charged speech as she urged artists to raise their voices "at this particular point in history".
Her impassioned message didn't impress right-wing conspiracy theorist Alex Jones, who made shocking remarks against the pop star during his radio show.
He called out the songstress as he assessed her speech at the 2017 Grammys. "Who is this tart?" the 43-year-old presenter began while evaluating every word said by the 47-year-old singer.
Jones went on with his rant saying, "So again, giant corporate people making hundreds of millions of dollars, up there with their perfect manicured everything. All the leftists from these big foundations, where 1 or 2 percent of the money goes to the Africans."
Known for his controversial statements and strong support for Donald Trump, the InfoWars founder not only slammed Lopez for her politically-infused Grammys message but also rained brutal insults on her.
At one point the right-wing pundit even referred to Trump as he continued mocking Lopez. "He doesn't want to bring people in from Somalia where women are sold on slave box.
"Why don't you go to Somalia for five minutes, lady, you'll be gang raped so fast it'll make your head spin," Jones said referring to the singer.
Jones' heavy critique comes after the On The Floor hitmaker spoke about uniting voices on the Grammys stage. While introducing the nominees for Best New Artist category Lopez said, "At this particular point in history, our voices are needed more than ever."
Quoting Toni Morrison, she added, "This is precisely the time when artists go to work. There is no time for despair, no place for self-pity, no need for silence, and no room for fear. We do language. That is how civilizations heal."