Music icon David Bowie released Blackstar, his 25th and final studio album, a year ago today (8 January 2017) on his 69th birthday. Two days later, the Space Oddity star died after losing his battle with cancer – but he left behind even more than his incredible legacy of music as fans are still unearthing secret messages hidden within Blackstar's music, videos and artwork.
Blackstar earned Bowie yet another hit on the charts, with the record reaching number one in the UK and around the world. It took a few months for fans to realise that Bowie had created a challenge for them to discover as many secret images buried within the album's artwork.
When the 'treasure hunt' was revealed in May 2016, Bowie's son Duncan Jones tweeted: "Leaving us surprises even now. So clever. So missed." The singer's longtime producer Tony Visconti also said of the album: "His death was no different from his life – a work of art. He made Blackstar for us, his parting gift."
In celebration of Blackstar's release, and what would have been Bowie's 70th birthday, IBTimes UK lists all of the secrets found so far.
Galaxy of stars
Jonathan Barnbrook, who designed the album's vinyl cover, admits that many people first thought the artwork to be boring – it is the first and only Bowie studio LP not to feature his image. However, if the large star on the front cover is left out in the sun, it transforms into a galaxy of stars and fades away once back in the shade.
Barnbrook told Dezeen magazine: "It's subsided a bit now, but a lot of people said it was a b******t cover when it came out, that it took five minutes to design. But I think there is a misunderstanding about the simplicity."
Blacklight
One clever fan discovered that, if left under a UV blacklight, that same star illuminates a gorgeous hue of blue.
69 stars
Inside the album's booklet, fans will find six stars. Well, every point on each star totals 69, which was Bowie's age when the record was released. The breakdown:
Page 2 = 5
Page 4 = 16
Page 6 = 8
Page 9 = 12
Page 10 = 20
Page 16 = 8
3D images
Chris Gray, who discovered the nifty trick, told NME: "It's all in the booklet that comes with the album. I noticed that their is a very quirky design on the page where the lyrics, [for] 'Girl Loves Me', appears. I was pretty sure this was an instruction – and so it transpired.
"What you have to do is bring the booklet to within about 10cm of a wall in a blackened room and shine a torch on the images that appear in the booklet (such as the stars, the man and woman, the 'Lazarus' title etc, etc,) and what you get is a range of fantastic coloured and 3D images. The lyrics also appear 3D with red shadow colouring."
Birds and starships
Depending on which angle you shine a light on the cover, you'll find a star, a spaceship and a bird in flight. Others claim to view the album's run times on the back, written in a font named Terminal, which can be found in a design suite named Lazarus – the title of Bowie's last single.
Starman and the stars
Matias Hidalgo told Spin that if merged together, two pages inside the booklet can be rearranged to blend Bowie's silhouette with a backdrop of stars. Hidalgo said: "It's a nice thought to imagine the Starman among the stars."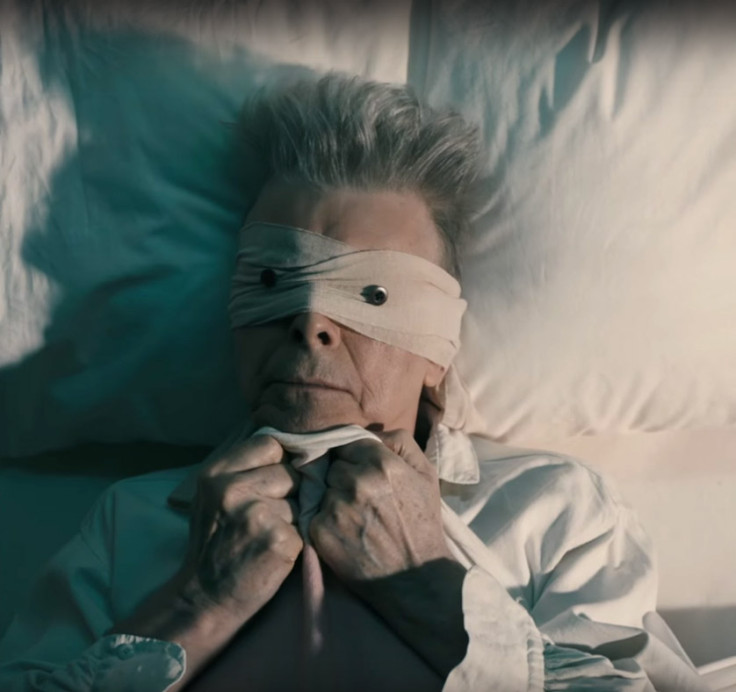 B-O-W-I-E
Some believe the fragmented stars featured on the bottom of the album cover would spell 'Bowie' if shown as a whole.
Constellations
One astronomy fan quite literally connected the dots and joined together the constellation of stars on one page of the booklet. When done correctly, what is found is the outline of a person – a 'star man', to be precise. Fan John Clarkson said: "Since Bowie has a history as a 'starman', it makes sense. But I could be jumping at shadows."
Watch David Bowie's Lazarus music video: