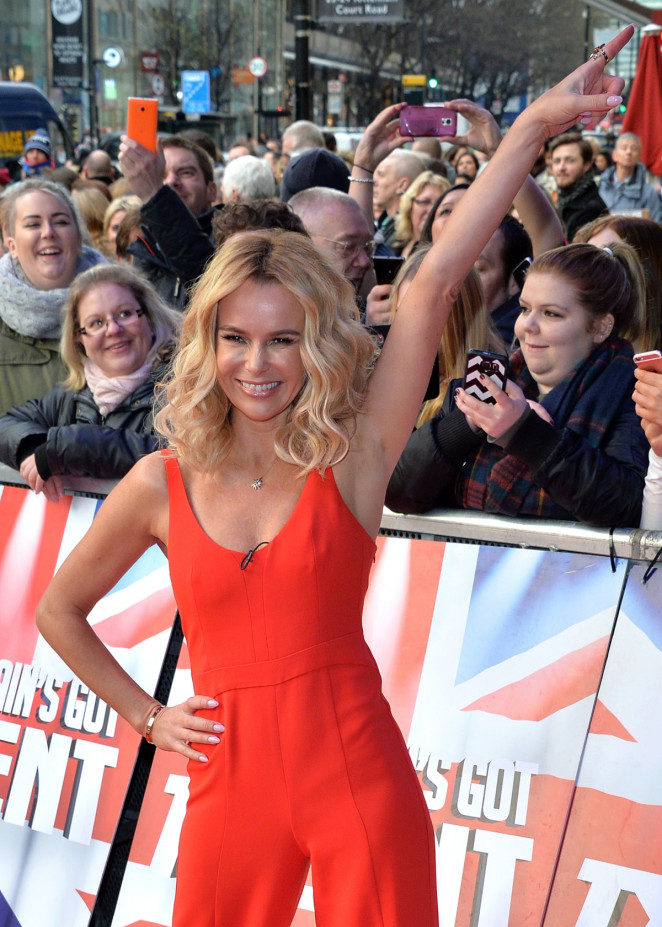 Amanda Holden, best known for being a judge on ITV's Britain's Got Talent, has been in the news for her revealing outfits. From cut-out gowns with thigh-high slits to sheer dresses, the TV celebrity has sported them all. Recently co-judge Simon Cowell apparently made a comment on one of her outfits.
"I got up and Simon said, 'You're barely wearing anything and I can see everything,'" Holden said talking about her moment from the show. She added, "I was wearing knickers, can I just say... Imagine sitting down with my p****i out. No, thanks! That's a step too far."
Although, she did say that she had sought her grandmother and husband's approval before she wore the dress. But, bold outfits are not the only bone of contention for the TV star.
She recently posed nude for People for the Ethical Treatment of Animals (Peta). Holden would feature in a new campaign poster for the animal rights charity.
The image taken by photographer Trevor Leighton shows the English actress posing on top of a bed of vegetables.
Holden credited vegetarian food for her great skin and physique, and hoped that people will be inspired to go vegan. The slogan on the campaign poster read, "Go Veggie: Your body will love you for it".
In the latest season of the reality TV show Britain's Got Talent, the singer/actress has been seen in bold outfits. Speaking about going vegetarian, she said, "For me, there are many benefits. My skin's always good. I never feel bloated."
The mother of three has been a strict vegetarian since the age of 13 and never really liked eating meat. "I don't really know what prompted it but my mum says that even when I was really little I would eat all the veggies off the plate, including broad beans. And I used to leave the meat or keep it stuffed in my mouth and spit it down the toilet secretly," Holden said, "When I was old enough to understand that meat was actually animals there was a point where I went: 'No more'," she added.
With her latest stint for Peta, Holden also joins a host of celebrities such as Eva Mendes, Alicia Silverstone, Pink, and Kelly Brook, who have earlier posed naked to promote the message of animal welfare.