Japan is famous for getting its hands on innovative products before the rest of the world. Now it is set to uncork a bit more jealousy after Amazon launched an on-demand sommelier service.
Exclusive only to Japan, Amazon's phone-based service offers users the chance to call wine experts to help them decide on which bottle to choose from the Amazon wine store to enhance their meal or impress a dinner party. Best part of all: the service will be offered completely free of charge for Amazon customers.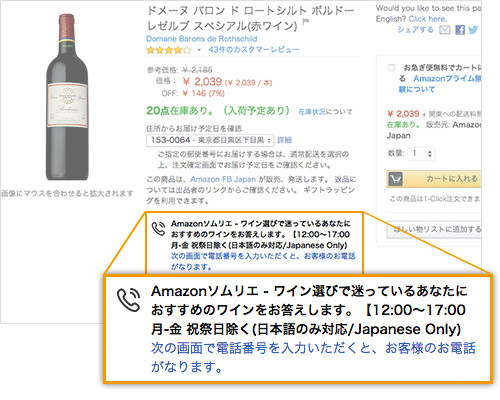 All stumped wine browsers have to do to find out whether to opt for the claret or Chianti is call a number; they will receive a call-back, typically within a few minutes, the company said. Amazon claims all its on-demand sommeliers are certified wine buffs and would be available from midday to 5pm every day. It will be in Japanese only.
At the moment, Amazon has not revealed whether the service will be rolled out to other countries. Amazon Japan stocks 8,000 bottles of wine as it is becoming a popular choice of alcohol in the country. In the UK, Amazon stocks alcohol as well as food products as part of its Amazon Pantry service, but alas there's no omniscient oenophile on the end of the line for us.
This on-demand sommelier service joins the likes of crazy Kit-Kat flavours, animal cafes and high-tech toilets on the long list of reasons why Japan is looking like a tempting place to live.