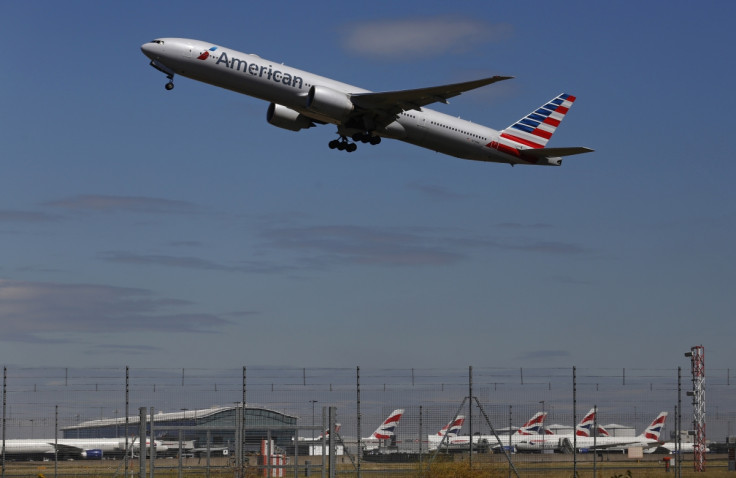 A passenger was escorted off an American Airlines plane on Saturday (19 August) after he caused panic when he tried to open an exit door mid-flight.
People travelling on a flight from Los Angeles to Minneapolis were given a fright when a man tried opening one of the emergency doors while they were in the air.
Passengers tackled the man as he reached for the door handle and restrained him in his seat as the pilot made an emergency landing at St. Paul Airport in Minneapolis.
A video shows the suspect, who is wearing a dark hooded jumper and sunglasses, being escorted off the plane by police officers. He keeps his head bowed as he walks off the plane and does not say a word to his fellow passengers.
Richard Munassi, who shot the video, said the man's actions caused panic on the flight.
"There was a lot of yelling and screaming," he told CBS News. "I thought perhaps two of the passengers had gotten into maybe a fist fight."
He said the man tried to open the door "immediately after the pilot let passengers know that the plane was in descent."
"It was a couple of minutes afterward, so he had a plan to open that door as we were getting close to the ground," he said.
Another passenger, Salman Elmi, described the incident as a "crazy experience" and said one man shouted "I'm about to punch him" as he grabbed the suspect.
The flight's pilot kept everyone calm, both passengers said. Once the suspect was restrained in his seat, the pilot quickly landed the plane.
"We came in hot, probably the hottest landing I've ever been on and I fly all the time," Munassi said. "Everyone was dead quiet on the flight. You could cut the tension with a knife."
A spokesperson for St Paul airport said the case had been handed over to the FBI as the incident occurred in the air. The FBI declined to comment on the investigation