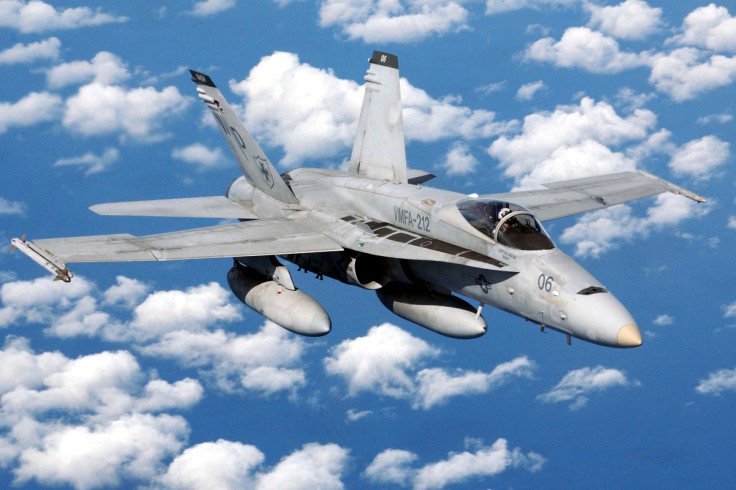 A fighter jet pilot has died after an American FA-18 Hornet crashed near the RAF Lakenheath airbase in Suffolk. It was claimed the pilot managed to eject before the aircraft plummeted to the ground. The jet crashed five miles north west of the airbase at about at approximately 10.30am in the Fens, Cambridgeshire.
A search and rescue operation was launched in the wake of the incident but Cambridgeshire Police confirmed the pilot, the only person who was in the jet, died. The FA-18 had taken off from RAF Lakenheath but was not connected to the base. The FA-18 was one of a group of Hornet Marine Corps planes that were heading back to the Untied States from the Middle East after arriving at Lakenheath at the weekend.
Responding to reports on Twitter, one resident from nearby Mildenhall, which is home to RAF Mildenhall, said: "That would explain the bang/house shuddering at 1023. Must have had a lot of fuel on board. Hope pilot OK."
As well as Britain's Royal Air Force, Lakenheath is also home to the USAF 48th Fighter Wing, which is assigned to Headquarters Air Command Europe and has taken part in campaigns in the first Gulf War and Kosovo. RAF Mildenhall has been a UK and US air base since 1934 and is where the US keeps its aerial refuelling aircraft. Emergency services are at the scene on farmland in Redmere, near Ely, close to the Suffolk border.
Aircraft manufacturer Boeing describes the FA-18 as a "supersonic, all weather multirole jet fighter that is capable of landing and taking off from an aircraft carrier."