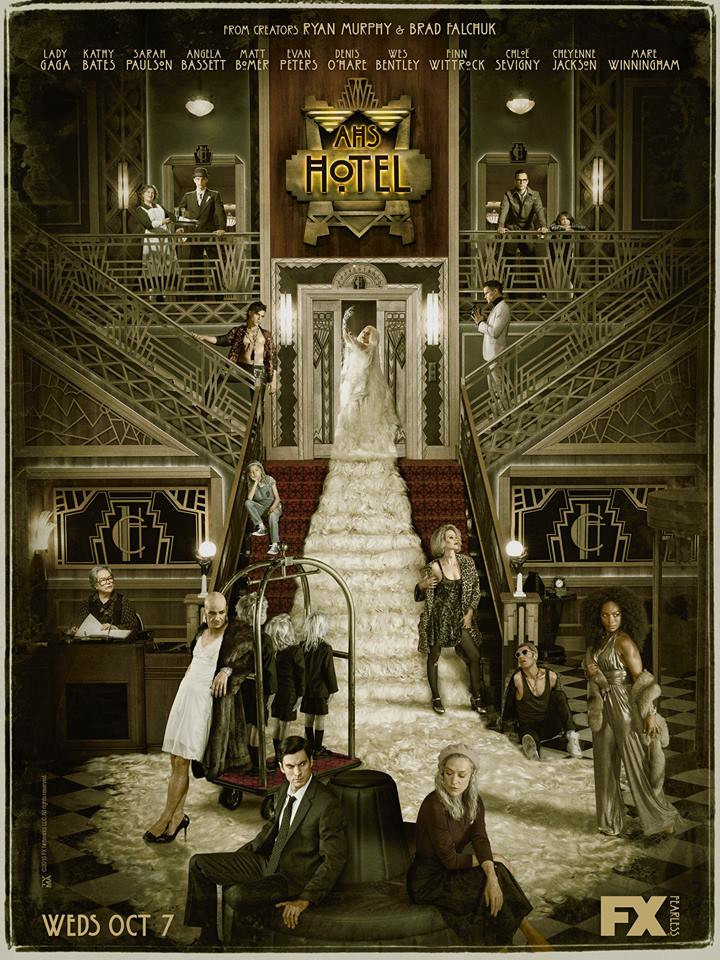 Faint hearted people stay away when American Horror Story season 5 titled Hotel premieres on 7 October at 10pm EST on FX Networks. This season, singing sensation Lady Gaga is poised to star in a leading role, and will bring her own version of scary and sexy elements on the show.
Gaga's character is named Elizabeth aka the Countess who owns Hotel Cortez. She is a vampire, who drinks blood to maintain her youthful figure. The singer also filmed a foursome sex scene with Matt Bomer for AHS Hotel.
American Horror Story co-creators Ryan Murphy and Brad Falchuk teased Gaga's role in the fifth season of FX's anthology series. Murphy told E! News that fans will not be disappointed in Lady Gaga, and teased that she'll give people nightmares. "When you see that first episode when she comes on the screen, you're like, 'Holy s—t.' She has this incredible, magnetic thing that you can't create," he said. "You either have it or you don't. And she has it."
Co-creator Brad Falchuk promised that, "She will terrify you and you will also be in love with her at the same time." Speaking about her character, Gaga herself told Entertainment Weekly, "The Countess is a very old soul. She's extremely strong. She's been through so much. It's kind of impossible for anything to penetrate her. This show in many ways is about her survival and there is an amazing journey that touches on the mythology of viruses and in what ways these afflictions change our lives and bring us together and tear us apart."
The premiere episode is titled, Checking In, and the official synopsis reads as follows:
Detective and family man John Lowe [Wes Bentley] investigates a chain of gruesome murders in Los Angeles. A mysterious tip points him to the enigmatic Hotel Cortez. Written by Ryan Murphy & Brad Falchuk; directed by Ryan Murphy.
Here is the full cast list:
Kathy Bates as Iris; Sarah Paulson as Hypodermic Sally.
Evan Peters as Mr. James March; Wes Bentley as John Lowe.
Matt Bomer as Donovan; Chloë Sevigny as Alex Lowe.
Denis O'Hare as Liz Taylor; Cheyenne Jackson as Will Drake.
Angela Bassett as Ramona Royale; Max Greenfield as Gabriel
Naomi Campbell as Claudia; Finn Wittrock as Tristan Duffy
Ryan Murphy revealed at Comic-Con 2015 in July that Angela Bassett, Kathy Bates, Matt Bomer, Sarah Paulson and Evan Peters are playing bad boys and girls in AHS Hotel. Speaking of the guest stars, Murphy said, "This year, it's a true ensemble and I think we have more male parts and more male stories. The Wes Bentley part is really big, the Matt Bomer part is really big; Evan Peters and Finn Wittrock are really big. [But] that's not to say that the women aren't either."

Here are all the trailers released by FX for AHS season 5: