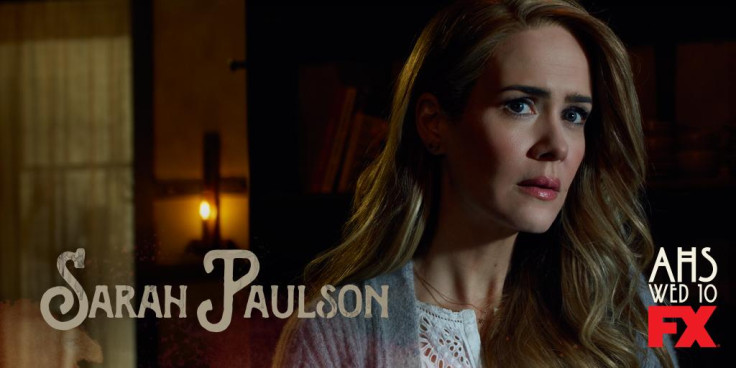 American Horror Story season 6 returns with its 2nd episode this Wednesday (21 September) where Shelby (played by Sarah Paulson) and Matt Miller (Cuba Gooding Jr.) will learn terrifying secrets about their house in Roanoke Island, North Carolina.
Click here to watch AHS season 6 via live stream. Click here to watch it online on the FX website in the US. You can also download the FXNOW app by clicking here.
The show is based on true story about a group of colonists who disappeared on Roanoke Island between 1587 and 1590. The plot for American Horror Story: Roanoke is shown as a paranormal documentary series titled My Roanoke Nightmare, which re-enacts the experiences of a married couple who relocate to Roanoke Island, North Carolina.
The premiere episode featured Shelby and Matt Miller moving from Los Angeles to a house in Roanoke Island, after they were assaulted as part of a gang initiation.
After the couple get settled into their new home, strange and paranormal occurrences begin to haunt them. Not able to handle all this, Shelby decided to flee the town, and the episode ended with her getting lost in the woods.
Returning cast members from previous seasons include Evan Peters, Sarah Paulson, Lily Rabe, Denis O'Hare, Kathy Bates, Angela Bassett, Wes Bentley, Cheyenne Jackson and Adina Porter. Cuba Gooding Jr. and André Holland are the new additions to the AHS cast.
Gooding Jr. in an interview with Vanity Fair spoke about his co-star André Holland. In AHS season 6 narrative, Gooding Jr. and Holland are playing the same character, Matt Miller with the later is the "real" present-day version while the latter plays the character in re-enactments.
"I'm just trying to phrase this so I can keep myself safe," the People V OJ Simpson actor said of working with André. "Because I don't want anybody get mad at me. Because they never give you information. When I go, 'Who's playing the real Matt?' They go, 'André' and I go 'from The Knick? Oh my god, I love that guy, I can't wait to see him..'" he added.
When asked if his character and Holland character ever got the chance to meet in the show, Gooding coyly replied, "Well, I can't continue this line of talking. If I continue this line of talking, I might give something away."