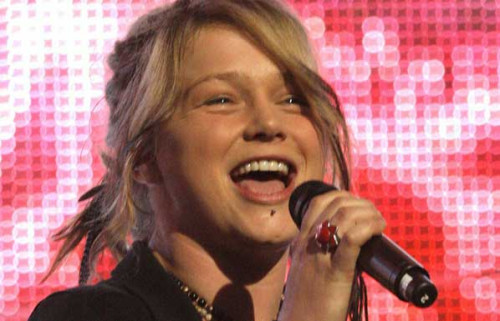 America Idol star Crystal Bowersox has announced she is bisexual.
After months of speculation, the season 9 runner up finally addressed her sexuality in a track entitled Coming Out For Christmas.
During an appearence on Good Day LA, the 28-year-old singer said the song is a celebration of her decision to finally be honest with the world.
It included the lyrics: "It's a gift that needs no unwrapping, the unraveling of a lonely lifetime of fear.
"No ribbons or tinsels, none of the trappings, could keep me tied, it's a new year."
She dedicates the heartfelt track to all the members of the LGBT community who have been disowned by their family, or picked on for their sexual orientation.
"I have been bisexual for as long as I can remember," she says.
"I just remember being made fun of in junior high for that and it was something that was shameful and it really shouldn't be."
Bowersox told GregInHollywood.com that reactions to her coming out have been "overwhelmingly positive".
"My fans are die hard and I love them for it," Bowersox says.
"They take me as I am."
Bowersox, who lost out on the Idol crown as a close second to Lee DeWyze, admits that although she was aware of her sexuality for a long time, she feared how her life would be impacted once she came out.
"I feel really confident this year," she says.
"That's a part of who I am and there's no sense in keeping it to yourself."
Bowersox was previously married to fellow musician Brian Walker but the couple divorced in May 2013. She also has a son, Tony, from a previous relationship.