Great Britain's former unified light-welterweight champion Amir Khan believes he would have little problem dispatching of Conor McGregor inside a boxing ring, but concedes he would find the going far tougher if the pair were to duel in a high-profile MMA clash.
Speculation regarding a potential $100m (£80m, €92m) bout between the UFC superstar and retired pugilist Floyd Mayweather Jr has dominated headlines in the fight world for many months now, while the prospect of another cross-sport dust-up was raised earlier this month when London UFC veteran Jimi Manuwa surprisingly called out compatriot David Haye after completing a devastating first-round knockout of light-heavyweight rival Corey Anderson in front of a hometown crowd at Fight Night 107.
Khan has previously declared an interest in learning the ways of the octagon and is currently a stakeholder in Super Fight League (SFL), a successful India-based team MMA promotion that has also branched out into Pakistan and the United States. In December, the 2004 Olympic silver medalist announced plans to launch a similar league in Britain.
"I always said I'd give it a go," Khan recently told EsNews when asked how he would get on in the brutal world of MMA. "I'm a fighter who likes to fight and try different things. I'll give it a go. I don't know if I'm going to be good at it, but I know I'll give it my all."
Told that he could potentially beat an unsuspecting McGregor in an MMA contest by bombarding him with punches, he added: "He wouldn't know man, I'd just hit him bam, bam, bam, bam. If he grabbed me, then I'm done. I'll have to work on that. If he grabbed me, I'm done. Nate [Diaz] choked him out and what Nate said to me is that 'he's not the best when you get him on the floor'. So he's normally a stand-up fighter.
"Nate is a great fighter, but so is Conor. Conor is a fighter who's put UFC on the map and knows how to market himself. This is what fighting is all about, it's all about promoting yourself, sometimes being that bad guy and making yourself a big name. Mayweather at the start was the bad guy in boxing, but then he changed his whole image."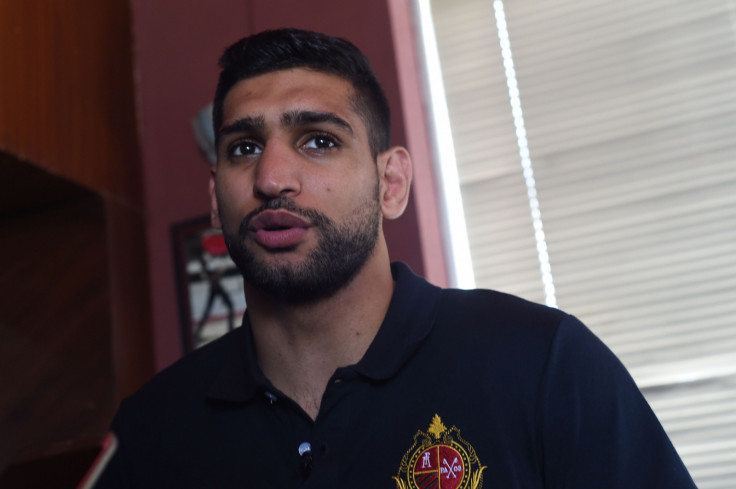 Khan has previously spoken regarding a potential fight with McGregor, stating that the key difference between himself and Mayweather was a willingness to switch sports. He insisted he would not back away from the challenge should it present itself and that he would be content to put his friendship with the brash Irishman aside.
Asked again who he believes would win a sold-out boxing clash at the O2 Arena, Khan added: "I think I'd beat him in boxing quite easily, but in MMA it might be tough, might be different. Maybe, you just don't know. Boxing is something I've been doing all my life."
While outspoken featherweight champion McGregor is currently taking a break from the UFC in preparation for the arrival of his first child, Khan has not fought since moving up two weight divisions last May and falling victim to a vicious sixth-round knockout at the hands of Saul "Canelo" Alvarez.
Talks over a lucrative meeting with domestic welterweight rival Kell Brook broke down amid a very public disagreement over the purse split and a proposed April date against Manny Pacquiao also fell through more recently after a $38m offer from an unnamed investment group in the United Arab Emirates (UAE) failed to materialise. The 30-year-old also underwent extensive surgery in 2016 to finally correct a broken hand that had been bothering him and limiting his punching power for 13 years.