Amtrak crash: Train sped up minutes before derailing, may have been hit by projectile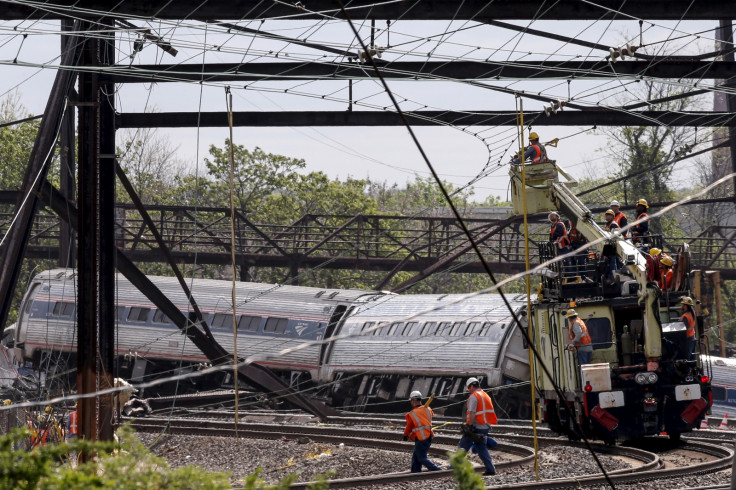 The Amtrak train that crashed in Philadelphia on 13 May accelerated from 70mph to over 100mph in the 65 seconds before it derailed, video footage proved on 15 May. The train, along with another separate commuter train nearby, may have been struck by projectiles before the crash, according to US transportation safety officials.
The National Transportation Safety Board's (NTSB) Robert Sumwalt told Reuters that investigators were unsure why the train sped up prior to the crash. The engineer, identified as 32-year-old Brandon Bostian, triggered the emergency breaking system just seconds before the crash, reducing the speed from 106mph to 102mph.
Bostian, who was co-operating with investigators, said he had no recollection of slamming on the breaks or anything else from the crash, Reuters reported. However, he did tell investigators that he had experienced technical issues when he conducted the train from New York to Washington earlier in the day.
Sumwalt said that the train was designed so that it could be accelerated only manually, but the NTSB was planning to investigate whether a mechanical malfunction could have led the train to speed up on its own.
Interviews to the trains crew also revealed that the train may have been hit by a projectile before the crash.
An assistant conductor told investigators that she had overheard Bostian talking to the driver of another train from the Southeastern Pennsylvania Transportation Authority (Septa) by radio, Reuters reported. The other driver allegedly said his train's windshield had suffered a crack when a projectile hit it.
The assistant conductor said Bostian replied his Amtrak train had also been hit by a projectile.
Meanwhile, the Washington Post reported that Congress voted to decrease Amtrak's budget by 18% as it debated a transportation spending bill just hours after the crash on 13 May.
"Confronting the safety issue is what we are focused on here with this terrible accident," Florida Democratic Senator Bill Nelson said. "Our heart goes out to the victims. But, at the same time, we've got to look to the future, and we've got to get our... collective heads out of the sand and start producing the funding for infrastructure investment."
Republicans, however, accused their Democratic counterparts of politicising the crash.
© Copyright IBTimes 2023. All rights reserved.