Google has just started rolling out its latest bug-fix update for Nexus 5 users in India, Australia and New Zealand with OTA firmware build number Android 4.4.4 KTU84Q.
Google has officially named the update as "Android 4.4.4 KitKat MR2.2 (aka 4.4.4_r2)", which includes a new radio image that addresses carrier support issues in the above specified regions.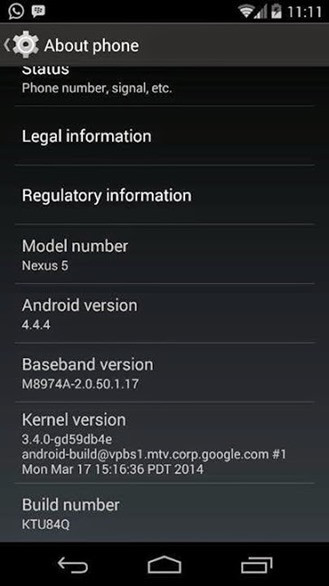 The firmware is currently restricted to select regions of the world and focuses on fixing issues with carrier networks or radio networks in those regions.
Nexus 5 users who are residing in India, Australia or New Zealand can download the factory image for the new 4.4.4 Release 2 firmware with build number Android 4.4.4 KTU84Q from here.
The new Android 4.4.4_r2 release supports the following carriers and/or countries:
2 Degrees in New Zealand
Telsta in Australia and
India
Except for the new radio package and build number, there is no other information available at the moment regarding this update, adds Android Police.
The report suggests we might, however, expect renowned change-logger Al Sutton to release an official developer changelog in the near future.
Until then curious Android users might check out the Android Open Source Project (AOSP) pages with commits for the latest version: page 1, page 2 and page 3.

Those who wish to install the new Android 4.4.4_r2 bug-fix update on their Nexus 5 can follow our step-by-step guide posted here (just download the firmware and follow instructions in the guide).