Google's latest and newest Android 5.0 Lollipop is faster and smoother, and offers more powerful computing performance through the introduction of the new Android Runtime (ART). This replaces the Dalvik, which debuted in Android 4.4 KitKat on an experimental basis. The new Android Runtime is claimed to improve application performance and responsiveness.
With most tech majors already having released the Android Lollipop upgrade for their flagship smartphones, including Nexus 5, Galaxy S5, HTC One M8 and LG G3, you will be curious to know how the new ART works its charm via the Lollipop software.
GSMArena has conducted a range of benchmark tests for the aforementioned flagships, revealing Lollipop's performance over the older KitKat version.
These benchmarks include GeekBench 3, AnTuTu 5, Basemark OS II, Basemark OS II (single-core), Basemark OS II (multi-core), GFX 2.7 T-Rex (On-screen), GFX 3.0 Manhattan (on-screen), Basemark X, Kraken 1.1 and BrowserMark 2.1.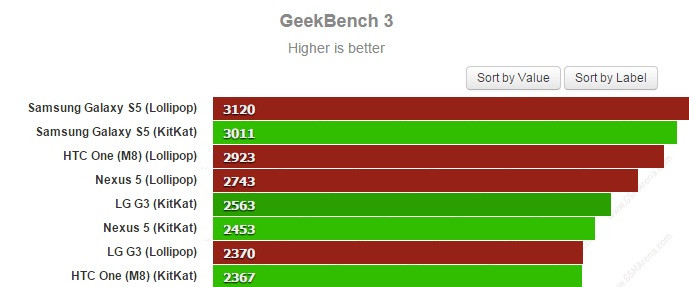 The GeekBench 3, a cross platform processing benchmark, sets the Lollipop powered Galaxy S5 on top of the list with the highest score. In the AnTuTu test, which is a comprehensive Android benchmark app including memory, CPU, 2D 3D graphics performance and more, HTC One M8 (Lollipop) occupies the first position, with a few more points than the Galaxy S5.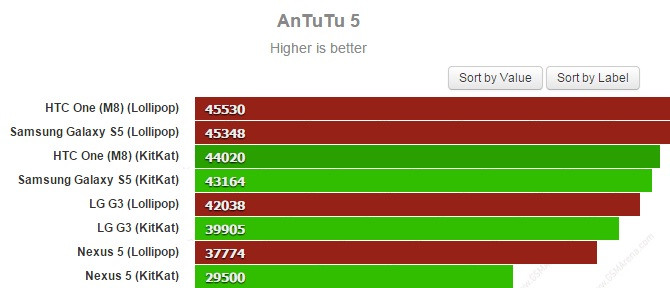 Surprisingly, the Nexus 5 on the older KitKat OS was the winner, outscoring the Lollipop version, which got the lowest points in the BaseMark OS II benchmark, an all-in-one test evaluating the overall performance of the smartphones.
In the next two Basemark tests, that is Basemark OS II single-core and multi-core, the Galaxy S5 retains the first place, although in the multi-core benchmark it was the KitKat driven Galaxy S5 that beat all devices.
There was only a marginal difference between the KitKat and Lollipop variants of HTC One M8 in the GFX 2.7 T-Rex (onscreen) graphics benchmark test. Similarly, in the GFX 3.0 Manhattan for graphics performance, render quality and power consumption benchmark, the One M8 (Lollipop) was the winner in the test, with one point more than the Galaxy S5.
The Basemark X benchmark for gaming and graphics performance did not see much change, with the One M8 (KitKat) version coming up as the top performer. Finally, in the last two tests, Kraken 1.1 javascript benchmark and Browsermark 2.1 measuring the browser performance saw Galaxy S5's impressive performance, courtesy of the Android Lollipop update.