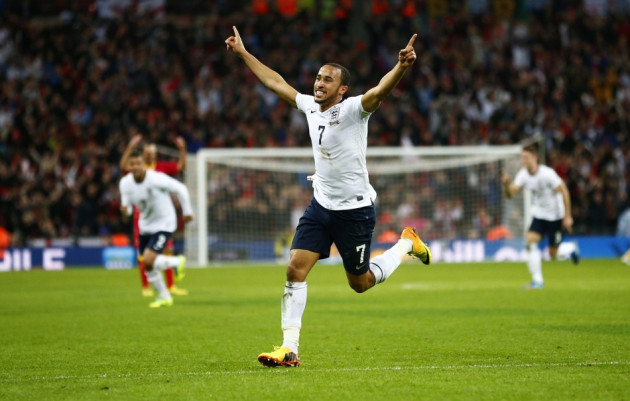 In a week where The Football Association chairman Greg Dyke was left lamenting the governing body's lenient retrospecitve rules, he will be relieved that Tottenham Hotspur's Andros Townsend - found guilty of breaching betting regulations in the summer - wasn't handed a great penalty after he inspired England on debut to the most crucial of victories over Montenegro to keep their World Cup dream alive.
Townsend was suspended from playing for the England Under-21's in the European Championships and given a four-month ban from football, three of which were suspended, after betting on fixtures in competitions he was involved in.
The 22 year old revealed he resorted to betting after becoming bored in his hotel room, but after an accomplished international debut in which he scored one and made another while putting England on the brink of 2014 World Cup qualification with as enterprising a individual performance as any during the campaign - he had a capacity Wembley Stadium captivated by his every move.
An England team accused of pedestrianism under Hodgson during a qualification campaign which had yielded no wins against their main group rivals, the hosts discovered new-found expansiveness with Tottenham's Townsend at the fore.
In the absence of Theo Walcott and Alex Oxlade-Chamberlain, both of whom have had their end product regularly questioned, Townsend provided a penetrating performance evoking memories of the old-fashioned English winger in the year of Sir Stanley Matthews' 98th birthday.
His link up with club team-mate Kyle Waker appeared naturally seamless while he outshone Wayne Rooney, Steven Gerrard and Daniel Sturridge, who the ex-Queens Park Rangers loanee cold have been forgiven for being overawed alongside.
Having been release on nine loan spells from Tottenham in four years, a policy which Dyke criticised in his opening address as FA chairman, Townsend's career last January year was threatening to fizzle out. Come the summer, he was on the precipice of joining an infamous list including David Bentley and John Bostock.
But in 2013 the Tottenham winger has made a habit of proving people wrong and such a performance has all but cemented his place in Hodgson's thinking for next summer - should England make it to Brazil - and restablished his standing within the walls of the FA. World domination could follow.