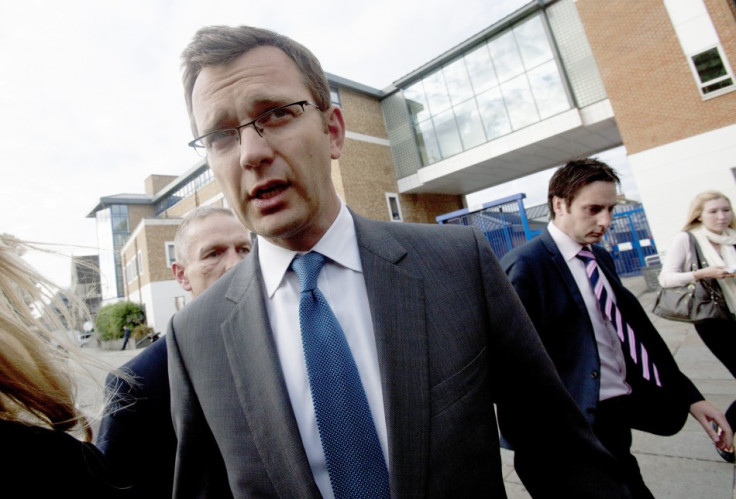 Former News of the World (NotW) editor Andy Coulson has been detained in connection with perjury allegations.
Coulson, former Downing Street director of communications, was held by Strathclyde Police officers in London. He has not been formally arrested or charged.
Coulson, 44, gave evidence in the perjury trial of former Scottish Socialist Party leader Tommy Sheridan in 2010.
Sheridan was awarded £200,000 in damaged from the NotW in 2006 after the paper claimed he committed adultery and visited a swinger's club.
Coulson was called to give evidence as he was the editor of the NotW from 2003 to 2007.
At the time of the trial Coulson was Prime Minister David Cameron's director of communication. He resigned in January 2011 following the NotW phone-hacking scandal.
A police spokeswoman said: "Officers acting for Strathclyde Police Operation Rubicon detained a 44-year-old man in London this morning under Section 14 of the Criminal Procedure Scotland Act on suspicion of committing perjury at the high court in Glasgow.
"It would be inappropriate to comment further in this case."
Operation Rubicon is a Scottish police investigation into allegations of phone hacking, breaches of data protection and perjury by newspapers.
It is running separately to the major investigations by London police into newspaper malpractice.
Coulson is being held in London and is due to be taken to Govan police station for questioning.
Sheridan was jailed for three years for lying under oath during his defamation action against the NotW. He was freed in January of this year.
Coulson was also arrested in connection to the ongoing investigation into phone-hacking at the NOTW. He was later released on bail.