Disney's favourite kind of films to make these days seem to be reboots, from live action outings like Cinderella, Alice In Wonderland and The Jungle Book to spin-offs such as Maleficent and Mary Poppins Returns. But when revisiting such classics, not everyone is going be pleased with the well-loved outings they hold so dear being "tampered with". Turns out, someone's isn't completely sold on the idea of upcoming film Beauty And The Beast and that person is none other than star of the 1991 original, Angela Lansbury.
Talking in an interview with Entertainment Weekly, the 91-year-old – who lent her voice to animated teapot Mrs Potts all those years ago – revealed that when she first heard a remake was being made she "was a bit taken aback" and immediately began questioning why the studio felt the need to do it again.
"Naturally, I thought, 'Why?' But I guess, I don't know why they're doing it," she candidly told the publication. "But they are, and it will be interesting to see what they do with it. These are live action pieces and I know very well the actress who's playing Mrs Potts and she's a very good friend of mine. It's Emma Thompson."
However, it doesn't seem to be worry over a newer version of her old character being seen on the big screen that has Lansbury feeling unsure of the remake, but rather the fact that many of the roles will be performed by live actors including Josh Gad, Kevin Kline, Luke Evans and Emma Watson.
"I can't understand what they're going to do with it that will be better than what we've already done," she continued. "It may turn out to be very entertaining and wonderful. It won't be like the cartoon that we did, but it's a good story.
"It's one of the famous fairy stories that is known worldwide by children. Therefore, why not? I don't blame them for doing it. But, I'm sorry, they're not really on our territory. We did it as cartoon characters, and that is quite different from live actors."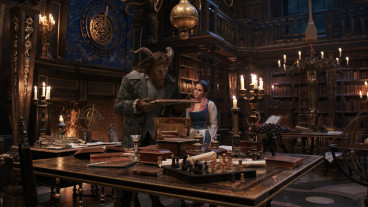 Also starring the voice talents of Black Mirror's Gugu Mbatha-Raw, Stanley Tucci, Ewan McGregor and Ian McKellen and featuring new songs composed by Alan Menken and Tim Rice, Beauty And The Beast is scheduled to reach both UK and US screens on 17 March 2017.
For more entertainment news follow A-List on Twitter @Alistinsider