Hollywood star Angelina Jolie took a personal approach as she addressed the Syrian crisis during her recent visit to a refugee camp in Jordan. The 41-year-old actress referenced her own children when she spoke about the "harsh" conditions under which the Syrian refugees are living at the Azraq Refugee Camp in Jordan.
Speaking to the press on Friday (9 September) Jolie said, "There are children here who remember no other life than this harsh, desert environment and barbed wire fences. There are teens here, who bear terrible mental and physical wounds of the conflict."
As she continued with her moving address, the Mr And Mrs Smith actress went on to imagine her own children living in such "harsh conditions". "Over half of all the refugees in Jordan are under 18. My own children are of that age. And like any other parent, it is impossible for me to imagine what it would be like for my own children in this situation. And it breaks my heart," she said.
Jolie, who shares six children – Maddox, 15, Pax, 12, Zahara, 11, Shiloh, 10, and twins Knox and Vivienne, 8 – along with husband Brad Pitt made her fourth trip to Jordan that hosts more than 600,000 refugees affected by the ongoing civil war in Syria, according to the United Nations.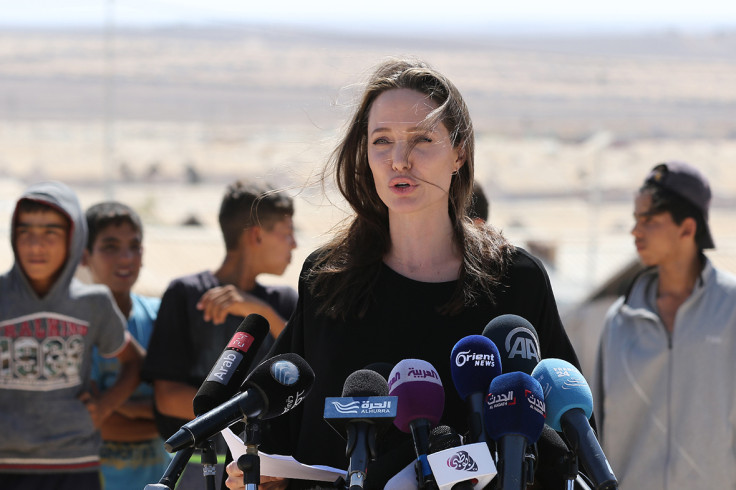 The filmmaker and humanitarian went on to say that those families that managed to escape crisis-inflicted regions in Syria were lucky. "But as difficult as conditions are, refugees here count themselves among the lucky ones. Besides the millions trapped inside Syria whose lives are at risk daily, 75,000 Syrians are stranded in the Berm – a no-man's land on the Jordanian border – including children, pregnant women, and gravely ill patients," the Jolie added.
She finally made a plea to world leaders on the heels of the 71st session of the UN General Assembly and said, "Ask the fundamental question of what are the root causes of the Syrian conflict, and what will it take to end it."