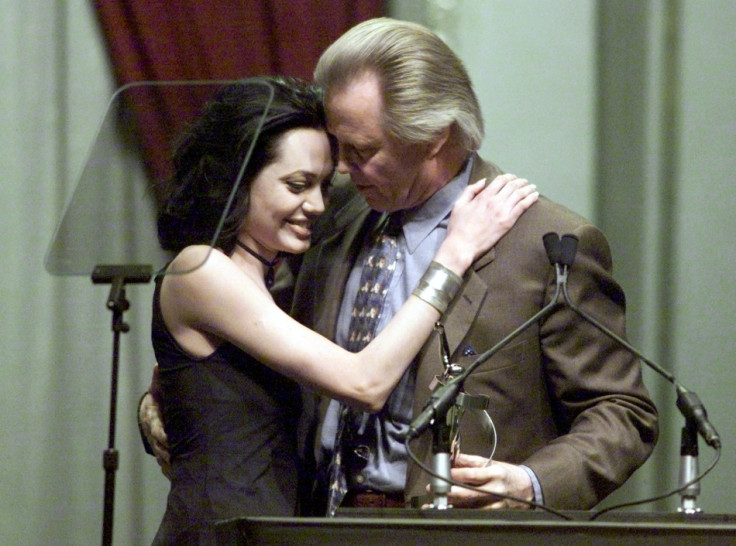 Oscar-winning actress Angelina Jolie has reportedly banned her father Jon Voight from visiting his grandchildren as the relationship between the father-daughter has reportedly turned sour.
According to Radar Online, the First They Killed My Father star wants to stay away from her father and former husband Brad Pitt. A source told the celebrity gossip website that Voight has been trying to connect with his 41-year-old daughter and her children, but she does not want anything to do with him.
"Not a week goes by that Jon doesn't send Angie or her people a heartfelt note, but he's been given a message to stop bugging her and get used to the fact he's not welcome," the source said.
"The bottom line is that Angelina just doesn't like Jon and sees no reason why he deserves access to the kids. He was a horrible role model and she'll never forgive or forget the past," the source added.
Jolie's older brother James Haven, 43, has reportedly also stopped acting as Voight's messenger after allegedly getting caught in the father-daughter drama, which reportedly started when the 78-year-old actor left his family.
"[Haven] has been caught in the middle of this for years," the source said and claimed that "he's stopped ferrying messages to Angie now on Jon's behalf because it makes him uncomfortable".
When Jolie and Pitt, made their divorce public, Voight had offered to help his daughter and grandchildren. But, Jolie reportedly had asked him not to talk about her split and her children.
"The delicate situation has only increased the divide between Angie and Jon. Not only has Angie told her dad very little about the divorce from Brad, but she has given her father strict instructions to not discuss the family issues regarding the split and the kids with anyone," a source had told Hollywood Life.
"Angelina's father is doing his best to be caring and supportive of his daughter and wants to help with his grandchildren during her divorce from Brad Pitt," the report added.
Jolie filed for divorce from Pitt in September 2016. They share six children together – Maddox, Pax, Zahara, Shiloh, and twins Knox and Vivienne.