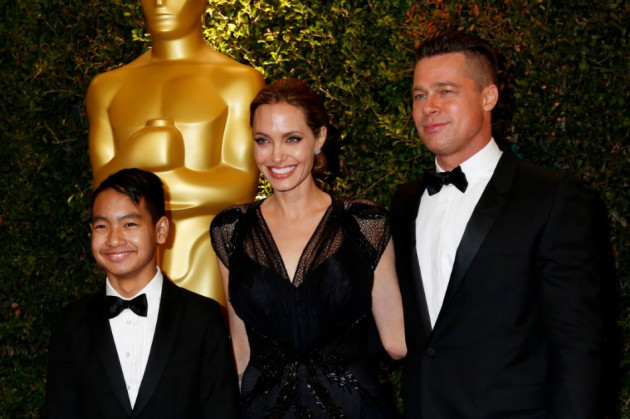 Oscar-winning actress Angelina Jolie received the Jean Hersholt Humanitarian Award during the fifth annual Academy Governors Awards ceremony, at the Grand Ballroom of the Hollywood and Highland Center.
The 38-year-old actress, who wore a black Atelier Versace dress, was joined on the red carpet by long-time partner Brad Pitt and their son Maddox.
"My love. Your support and your guidance make everything I do possible," she said during her award acceptance speech, "I'm not going to cry, I promise," Jolie said to Maddox from the stage. "I'm not going to embarrass you. You and your brothers and sisters are my happiness and there is no greater honor in this world than being your mom."
During an interview with The Hollywood Reporter, the Salt actress revealed what inspired her to work for the refugees.
"In Cambodia [while making the 2001 film Lara Croft: Tomb Raider], I learned about the refugee crisis during the war and met many returned families," she said, "Many of those families are now close friends and neighbours. They are extraordinary people. It is my honor to be spending time with refugee families. I have such admiration and respect for them; I refuse to see it as a charity. If anything, I have learned more from them than I could ever hope to give."
She added that "the inability of the world to stop the suffering and death of innocent people in Syria" troubles her the most.
"After all the lessons of history, after the slaughter in Bosnia and Rwanda when we promised we'd never let it happen again, yet again thousands of people are being brutally killed and millions are fleeing, and the world seems helpless to stop it. This is a desperate, urgent situation that simply cannot be allowed to continue. I believe that if people around the world all demand that their governments do more and that the United Nations functions as it should, we can find a way of ending this." she said.