UFC heavyweight champion Stipe Miocic has called out Anthony Joshua for a "proper tussle" on the undercard of Floyd Mayweather vs Conor McGregor.
In what is set to be the richest fight in combat sport history, former five-weight world champion Mayweather and the reigning UFC lightweight champion will clash under Queensberry rules on 26 August at the T-Mobile Arena in Las Vegas after both fighters confirmed the bout on social media on Wednesday (14 June).
The show is set to be an all-boxing affair with Mayweather Promotions handling an undercard that is likely to feature the stable's biggest names in super-middleweight champion Badou Jack and rising star Gervonta Davis.
But there has been no shortage of boxers and MMA fighters keen to exploit the growing obsession with cross-code fights.
Thirty-four-year-old Miocic is the latest to jump on the bandwagon, inviting the IBF, WBA and WBO world champion to step in the ring - before they sit down to watch the show's main event over one very English custom.
"Hey Anthony Joshua, let's have a proper tussle and still have time for tea and crumpets before the main event!" he wrote on Twitter.
Miocic has already once called out the man who is quickly becoming the face of heavyweight boxing, believing his amateur background gives him a fighting chance.
"He's a world champ for a reason. It would just be amazing," Miocic said, as quoted on MMA Mania. "It would be an amazing opportunity."
"I would just be so grateful....I did Golden Gloves and all that good stuff. I just love the fight. I think it would be a great fight. I think people would love to see it."
After Mayweather's recent trip to London in his capacity as a promoter, Joshua enthusiastically welcomed the prospect of featuring on the undercard of what he sees as one of the biggest nights in fight history.
"Get me on the undercard!" Joshua joked. "Why not? That's big. It's big. That's legendary shit. That fight will go down in history."
Joshua may have bigger fish to fry in the second half of 2017 however with his world title rematch with Wladmir Klitschko expected to be confirmed in the coming weeks.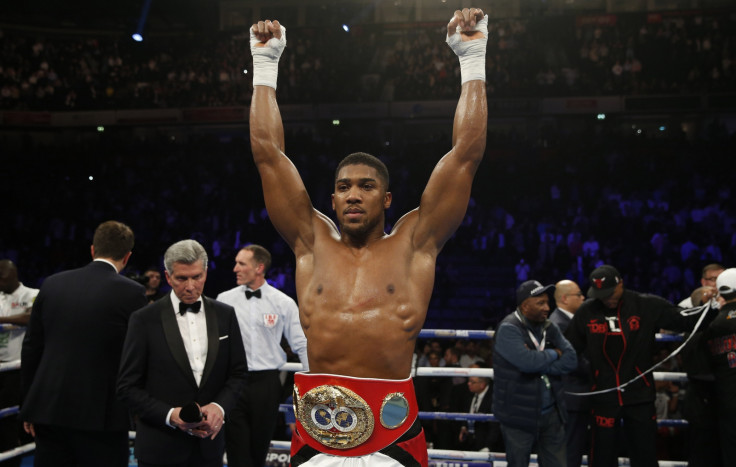 While the 27-year-old Londoner would undoubtedly contribute to the huge star power on the show, UFC president Dana White insists there are no plans for any other cross-code boxing matches on the undercard.