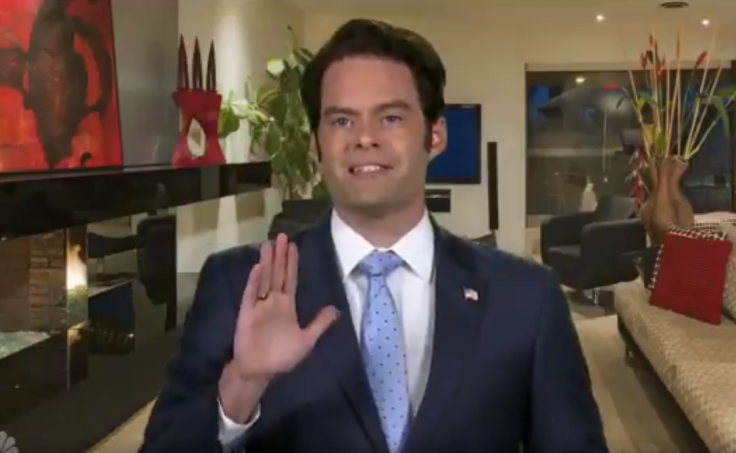 Saturday Night Live premiered its Summer Edition of Weekend Update with a special guest formerly of the White House. Trainwreck's Bill Hader made an appearance on the 10 August episode as the Trump administration's former communications director, Anthony Scaramucci.
Hader interrupts Colin Jost's (as Michael Che) broadcast via FaceTime, imitating Scaramucci's pout and dramatic hang gestures. "When I hear my name three times I appear like a Goomba Beetlejuice," the comedian explains of his appearance on the show.
"Everybody loves the Mooch. I'm like human cocaine," Hader said. "You got a little bump of me, I made you feel excited, but I was out of your system too quick. And now that I'm gone, you're all depressed and edgy and you're trying to figure out how to score some more Scaramooch!"
Scaramucci made headlines and triggered his own firing after an expletive-laden rant to a New Yorker reporter in which he threatened to fire all White House employees and had some choice words for his ex-colleagues Steve Bannon and former Chief of Staff, Reince Priebus.
"How can I say this for the censors? I said Steve Bannon was S-ing his own C," Hader said. "By the by, I was completely misquoted. I didn't say that Bannon tried to S his own C... he did it!"
Hader's character even asked about any openings on SNL. "You guys hiring over there, because I tell jokes now: Hickory dickory dock, Steve Bannon was sucking —," he said before the clip ended.
The real Scaramucci is still planning his next career move, but will be back in front of the cameras with TV show appearances next week. He will be interviewed by George Stephanopoulos on ABC's This Week on 13 August and on 14 August on CBS's The Late Show with Stephen Colbert.