A 13-year-old has been reported for fraud by his father after spending £3,700 on iOS apps.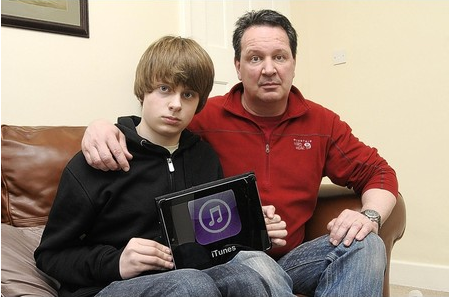 Using the credit card details registered to his father's iPad, Cameron Crossan from Bristol made more than 300 "in-app" purchases in free iOS games such as Plants vs. Zombies and Infinity Blade.
Doug Crossan, 48, himself a policeman, discovered his son's in-app spending when checking his credit card bill and immediately contacted credit card company MBNA Virgin who told him if he wanted a refund he would have to take the complaint up with Apple.
Before contacting the US tech giant, Crossan decided to substantiate his refund claim by obtaining a crime reference number, and reported his son to the Action Fraudline, meaning the teenager could now face questioning and possible arrest.
"I am a father of a studious, polite and sensible 13-year-old who has been duped after uploading free children's games on his iPod and iPad," Doug Crossan told The Bristol Post. "He clicked on the in-apps that cost money. None of us had any knowledge of what was happening as there was no indication in the game that he was being charged for any of the clicks made within the game.
"I just wanted to call Apple's bluff," Crossan continued. "I am sure Cameron had no intention to do it but I had to have a crime reference number if there was any chance of getting any credit card payments refunded. Really I just want to embarrass Apple as much as possible...Morally I just don't understand where Apple gets off charging for a child's game."
After receiving a crime reference number, Doug Crossan contacted Apple to claim a refund for his son's overspending, but was rejected and now says that the US tech giant is refusing to speak to him further on the matter. Explaining how he had seen other recent stories about families claiming refunds for their children's in-app spending, Crossan said:
"We have asked Apple to consider our case in the same light, as the case is mirrored by him playing exactly the same free games, but Apple have refused by saying the sale on iTunes is final and no refund will be forthcoming. How can that be right or fair under the circumstances?
"Apple iTunes are now refusing to speak to me or give me an idea of why they will not refund. They sent me a copy of the terms and conditions stating that all purchases are final and further contact should be by way of a solicitor."
Several other reports have surfaced recently of children overspending on in-app purchases by using the credit card details stored on their parents' iOS devices. Earlier this month, Greg and Sharon Kitchen, also from Bristol, discovered that their five-year-old son Danny had spent more than £1,700 on in-app purchases. In that case Apple issued a full refund.
The Kitchens contacted Apple for a refund and were told by that, since the purchases were clearly unintentional, they would be granted a full refund.
Apple recently reached a settlement in the US that will see it offer families free iTunes vouchers for any refund claim of up to $30 and cash for any claim above that.
IBTimes UK has contacted Apple for comment on its policy toward in-app spending and refunds and will update this story when more information becomes available.