Rumours of Apple developing an iPad Mini refuse to die, and now fresh speculation has emerged claiming that the Cupertino giant will announce a smaller iPad in October alongside the new iPhone.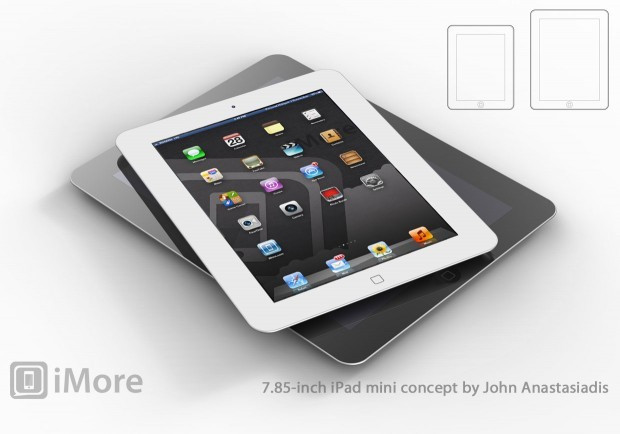 Apple news website iMore claims that its sources are talking of a smaller iPad with a 7in screen - compared to the 9.7in unit found in the regular iPad - but it will apparently offer the same impressive 2048 x 1536 resolution, resulting in a pixel density of 326 per inch, the same as the iPhone 4S.
Most interestingly, iMore claims that the smaller iPad will retail for between $200 and $250 (£124 - £155). This is considerably cheaper than the regular 9.7in iPad, which starts at £399, but to achieve this it is believed that Apple will offer just 8GB of storage in the smaller iPad.
This would give the smaller iPad a high pixel density than the larger model - which measures in at 264 per inch - and means that applications would work perfectly on both devices without developers having to change anything.
Although the idea of a 7in tablet was dismissed by the late Steve Jobs, who described them as "terrible and dead-on-arrival", iMove points out that Jobs also "said no one wanted to watch video on an iPod and that Apple wasn't interested in making a phone."
A smaller iPad would seem like a sensible move for Apple, and would sit neatly between the full-size iPad and the similarly-priced iPod touch range. Measuring between seven and eight inches, a smaller iPad would compete against the Samsung Galaxy Tab 7.0 and the new Galaxy Tab 2, which goes on sale today, 11 May, for £199.
More interestingly, the iPad Mini would go head-to-head with the Amazon Kindle Fire tablet, which is priced at $199 and is expected to arrive in the UK as a second generation device before the end of 2012.
An October release date would bring the smaller iPad to market around the same time that we're expecting to see the new iPhone, although some rumours claim the new iPhone will make an appearance at Worldwide Developer Conference (WWDC) in June.