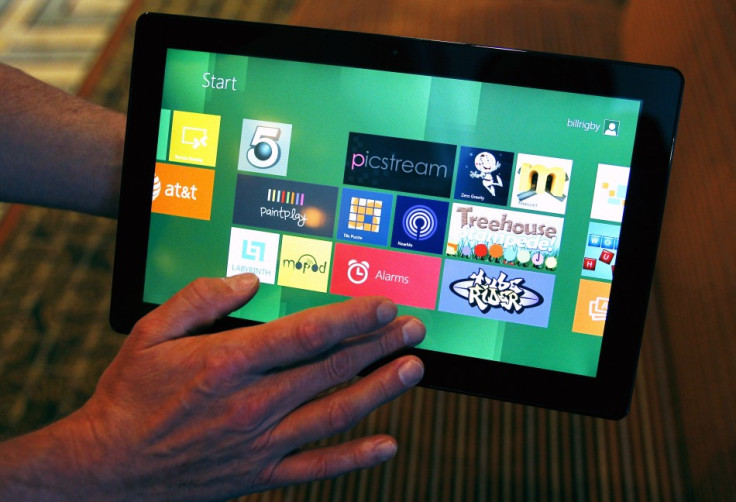 Microsoft has released a number of test tablets powered by its forthcoming Windows 8 operating system in a bid to topple Apple's monopoly on the tablet market.

Microsoft's Windows 8 Tablets
Microsoft reportedly handed out 5,000 new Samsung tablet computers running a test version of Windows 8 at its annual developer conference.
During the conference Microsoft clarified that the tablets had been given to developers in order to increase interest and app development on the product.
"Beyond seeing highlights of the work done on devices by partners including AMD, Intel, NVIDIA, Qualcomm and Texas Instruments, attendees at BUILD also received a Samsung prototype PC with Windows Developer Preview to aid them in creating and testing apps.
"Developers will also be able to download the Windows Developer Preview via the new Windows Dev Center later this week. Webcasts of sessions will be posted on the BUILD site as well," read Microsoft's subsequent statement.
Speaking to Reuters a number of industry analysts later argued that the tablet release was a part of a wider campaign by Microsoft to break Apple's hold on the mobile device market.
The analysts went on to question whether the move would be successful, indicating the company would need to move past combating Apple devices on a merely technical level, addressing key issues hindering the Microsoft brand.
"Kids today are seeing more Apple logos than Microsoft logos, and Microsoft needs to change that if they are going to continue being the force that they have been," commented Gartner tech researcher Michael Silver
"If you look at where Apple is successful, it's from consumers who have more power to bring in what they use at home to the business... That's important for Microsoft to go after, to get this fixed."

Android Tablets Legal Troubles
Before Microsoft's announcement Apple's chief competitor in the tablet software market had been Google's Android OS.
The OS had been used by a number of big-name tech companies' tablets, including HTC and Samsung.
Most recently Samsung revealed a number of tablets set to be released under its popular Galaxy brand.
Despite the popularity of the brand, the devices have had little success breaking the iPad 2's current hold on the market. This has mainly been thanks to the numerous lawsuits Apple has mounted against Samsung, alleging the devices' designs infringe on a number of Apple owned patents.
The accusations began in April when Apple mounted a complaint alleging Samsung's Galaxy range of devices "slavishly" copied the designs of Apple's iPhone and iPad devices.
Since then the devices have been banned from numerous markets. Most recently the German court overseeing Apple's case against Samsung has upheld an injunction against the Korean tech giant, banning the sale of Samsung Galaxy tablets in Germany.
Since Microsoft's Windows 8 announcement numerous consumer and research groups have speculated that given its legal success against Samsung, Apple may well attempt to make similar claims against tablets running Microsoft's new OS.
At the time this article was written neither Microsoft or Apple had responded to requests for comment about potential future legal action regarding the new Windows tablets.