Apple has failed in its attempt to patent the 'Swipe-to-unlock' feature, following a ruling from a German court. The country's top civil court found that the method for unlocking smartphones was neither sophisticated nor innovative enough for patenting.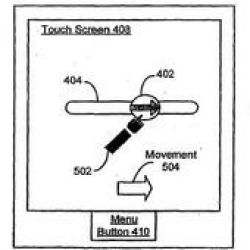 "This user-friendly display was already suggested by the state of the art," the court stated. "The contested patent thus isn't based on an invention."
The case follows an earlier decision by a German court in 2013 that denied the patent to the Cupertino company for not offering a "technical solution to a technical problem". Apple holds the patent in the US, as according to US patent law, anything "new" can be patented, regardless of technical innovation.
The latest ruling will mean that an earlier case brought forward by Apple against Motorola for using the unlock feature on its smartphones will most likely be dismissed.
Apple has used the swipe-to-unlock patent as the basis for many of its legal battles against Android smartphone manufacturers in the past. In May 2014, Samsung was found guilty of infringing on the patent and causing "irreparable harm" by using the swipe-to-unlock on its phones.
Apple had not responded to a request for comment from IBTimes UK at the time of publication.