Apple has announced a major partnership with IBM to help it secure its place as the number one mobile enterprise platform.
The deal will see Apple leverage the deep ties IBM has with the business world, tailoring apps for enterprise customers as well as proving support and service to customers around the globe.
With Blackberry now almost extinct and Android seen as a "toxic hell stew of vulnerabilities", Apple wants to press home its advantage in the enterprise sector by hitching its trailer to IBM who has deep and wide ties in the business world.
Apple already sells iPhones and iPads to 98% of Fortune 500 companies, meaning it already has a customer base which trusts its products - as well as employees happy to be using an iPhone 5s instead of a BlackBerry Passport.
However research suggests that most people only use the email and calendar apps on their iPhones or iPads at work, which means there is a huge opportunity for increasing the usefulness of these devices in the workplace.
Enemies become friends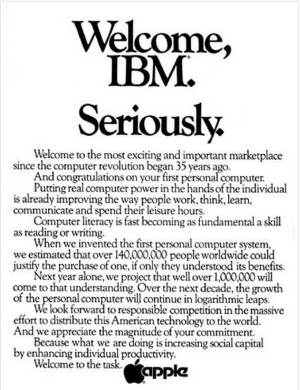 "This is just the beginning," IBM's Ginny Rometti told the Wall Street Journal in a joint interview with Apple CEO Tim Cook ahead of the announcement.
Three decades ago Apple famously attacked IBM in print ads (left) and in its iconic '1984' ad, but while Apple continues to sell PCs today, IBM is an entirely different company, having sold off its PC business to Lenovo almost a decade ago.
"In '84, we were competitors. In 2014, I don't think you can find two more complementary companies. This is a really landmark deal," said Cook, who worked at IBM for more than a decade before joining Apple,
Apps and service
Specific details about the deal and how it will work are not exactly clear at the moment, but broadly it will have two main parts.
The first will see Apple and IBM develop apps for different industries, with engineers from both companies already working on over 100 of these, the first raft of which are likely to be released later this year to coincide with the launch of iOS 8.
Dubbed IBM MobileFirst for iOS the platform will allow Apple to cater for specific needs of companies who are looking to leverage the power of today's smartphones and tablets to do more than just check email. As well as helping to create apps, the new platform will provide an "enterprise-class cloud solution".
Again this is something more and more industries are looking for, as they seek to eliminate the high cost of storing their data in on-site servers and move more fully to the cloud.
Support and sales
The second part of the deal will see up to 100,000 IBM employees become essentially Apple support staff, providing support and service of Apple products within companies - similar to how AppleCare provides support for consumers.
The partnership will also see IBM staff become Apple salespeople, promoting the benefits of iPhones and iPads to their enterprise customers.
The enterprise market has changed completely in recent years with bring-your-own-device (BYOD) policies causing headaches for the IT department who are trying to manage dozens of different devices, running different software and which are being used for both work and personal use.
"Apple is not an enterprise company"
Apple last month launched iOS 8 with a series of benefits for enterprise customers including enchanted security and better device management - but without the deep ties to enterprise, these benefits may have fallen on deaf ears.
"Apple is not an enterprise company, but that's not their DNA. It is IBM's DNA and IBM has had those relationships forever," Gartner analyst Van Baker told the Wall Street Journal. "It's an unlikely combination but a very strong one if they can pull it off."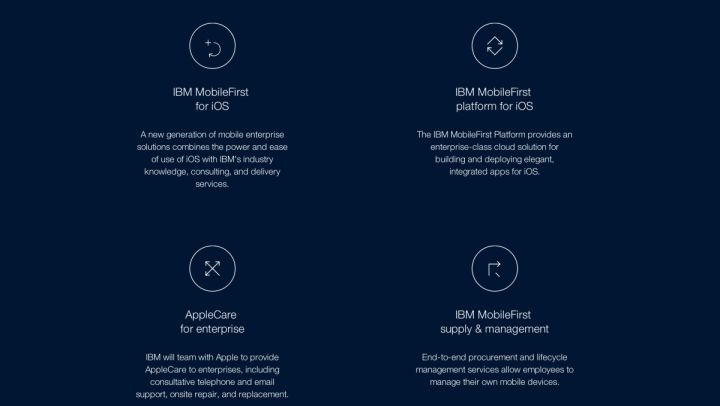 Apple doesn't typically do partnerships. Under Steve Jobs, Apple was reticent to share the spotlight with anyone, but Tim Cook is his own man, and he is well aware of the realities of the mobile market at the moment.
Enterprise growth is key
Figures released last week by Gartner showed that tablet sales in 2014 will slow, and Apple's domination of that market (at one point in 2011 it had a 75% share of the global tablet business) has waned - though it is still the market leader with a 32.5% share according to IDC figures from May.
In smartphone terms, while the larger-screened iPhone 6 will likely provide a significant boost to revenue, there is still unease among certain analysts about Apple's ability to continue growing in this market, as developed markets reach saturation point and increased competition from low-cost Android smartphones sees Apple's market share eroded.
Therefore it seems as if Cook has pinpointed enterprise as one area where Apple can make significant in-roads and the IBM deal is future proof of that.
Opportunity
With one-third of all iPads sold in 2013 going to business and government sectors according to Forrester Research, it is clearly a hugely important market for Apple.
With BlackBerry's latest effort to remain viable in the enterprise market - the Passport - being widely derided, Apple has seen its opportunity and is going for it.
Android L, which was announced by Google last month, added a significant number of enterprise features but without a coherent enterprise strategy or a partner like IBM to promote the platform on the ground, Apple looks like it could be set to dominate the market for years to come.