For its latest annual update to its iOS software used by the iPhone and iPad, Apple has made some major changes and added several important new features. With iOS 10 being made available for the public to download for free later today (13 September), we have assembled some of the biggest new features.
IBTimes UK walks you through some of the most important features complete with screenshots and explanations of what has changed and what is entirely new.
Control Centre redesign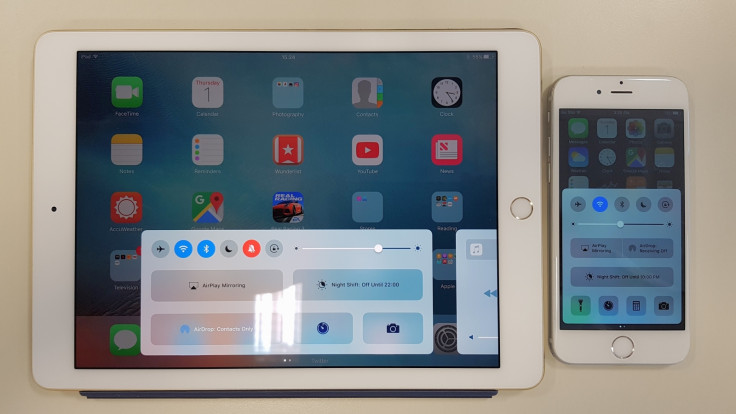 So extensive is the Control Centre redesign in iOS 10, that you are given a quick tutorial the first time you boot into the new operating system. It is still accessed with a swipe up from the bottom of the screen, but now there are up to three panels instead of just one. The extras include a space dedicated to music playback, either through Apple Music or Spotify, and one for Home, Apple's new household automation app.
Notification Centre redesign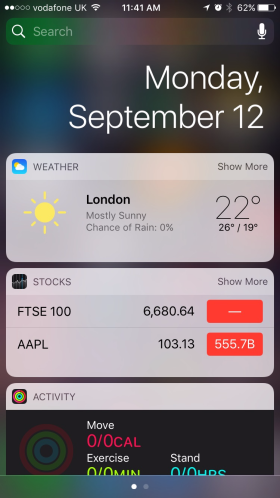 An equally major redesign has taken over at the Notification Centre in iOS 10, and stretches to cover just about every aspect of how notifications are displayed on the iPhone and iPad.
Accessed with a swipe down from the top edge, Notification Centre's aesthetics have had an overhaul, while a swipe from there to the left opens an all-new screen. Here, the date is joined by a customisable list of widgets showing news headlines, weather, calendar events, upcoming flights, reminders, stock prices and more.
Curiously, a swipe to the left of the home and lock screens also opens this page, while a swipe down from the middle of the home screen opens Spotlight search, just as before.
Notifications have also become smarter with iOS 10. You can view photos and videos within them and even write and send a reply without the need to access the application.
Raise to wake
Simple one this. If you have an unread notification, lifting your iPhone will cause the screen to light up and show you anything you have missed on the lock screen.
Press to unlock (RIP, Slide to Unlock)
The famous 'Slide to Unlock' command is no more. Because that gesture now opens the new notifications panel, unlocking the phone is done by pressing the Home button. If you use Touch ID then this is no different to before, but if you do not then you will need to activate the phone with a press of either the home or power button, then press the latter button again to get to the PIN entry screen.
Clock redesign and a new app, Bedtime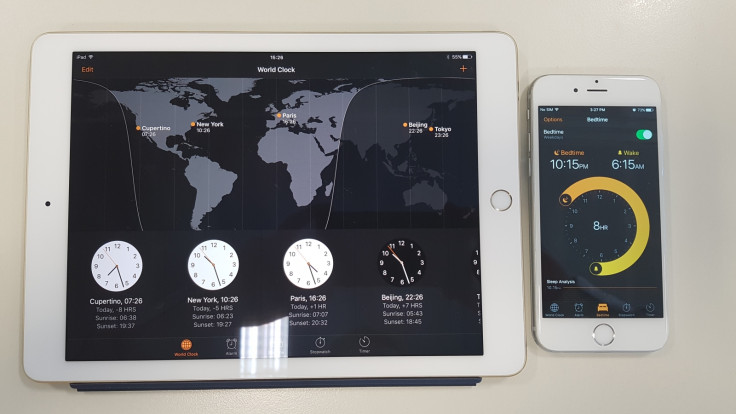 iOS 10 brings about a visual update to the Clock app, including a new stopwatch resembling that used by the Apple Watch. But the most interesting addition here is Bedtime, a feature which tries to promote healthy sleeping. You tell Bedtime what time you need to get up and how many hours' sleep you want to get (between seven and eight is recommended), and the app reminds you when it is time for bed.
To be honest, this is really simple stuff that you should not need your phone to remind you about, but it is nicely implemented and might lead to more detailed sleep analysis once the Watch battery is able to last more than one day without a recharge.
Dark mode
Buried in the code of iOS until the very last minute, Night Mode switches the user interface so that lighter colours in menus and apps appear dark, resembling how a sat-nav switches from light to dark at night. It is all to help protect your eyes, something Apple is working on on multiple fronts, including the Night Shift feature.
Full-screen notifications
Formerly given a tiny sliver of screen space, notifications of incoming messages, emails, e.t.c., can now be dragged down and stretched to take up half of the screen, giving you space to read them in full. You can even reply here without going to the relevant app, which is a real time-saver.
Apple apps can be deleted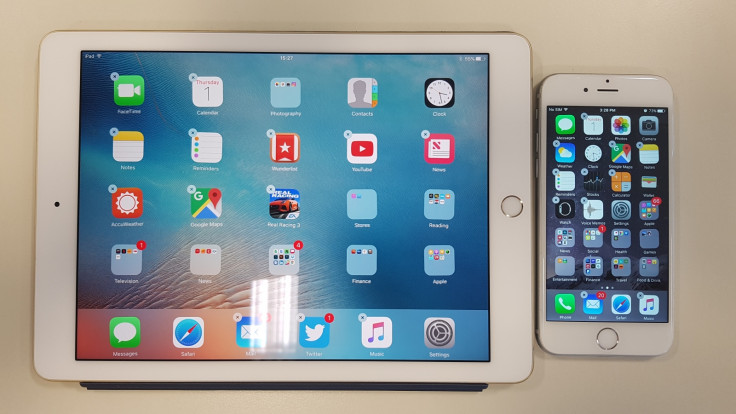 Yes, really. Apple's own applications can finally be deleted from your iPhone and iPad. This means you can delete the Apple Watch app, as well as Weather, Calendar, Notes, Voice Memos, Mail and Music. Some still cannot be deleted though, like Clock, Messages and Photos, and any you delete can be downloaded again for free from the App Store.
Messages
Apple has made a lot of changes to Messages in iOS 10. Here is a quick rundown of the updates. It is important to note that these features only work when an iOS 10 user is sending an iMessage to another iOS 10 user.
Invisible ink - Messages written with 'invisible ink' will not appear on the recipient's screen until they rub over the writing, or image they have been sent. Once revealed, message then disappears again behind a shield of scattered dots.
Animations - These are full-screen effects which take over the recipient's display when they open your message. Balloons, fireworks, light shows and confetti can all be chosen to appear over any written message you have sent.
Stickers - Like emojis turned up to 11, there is a new range of stickers to pick from in iOS 10, including a range of classic Disney characters like Mickey Mouse and Donald Duck.
Replace words with emoji - Write a message, then tap on it to change words into emoji, where available.
Digital Touch - Borrowed from the Apple Watch, this feature means you can send hand-written messages, drawn on the screen.
Apps - Finally, with iOS 10 Apple has opened up the iMessage platform to developers. This means apps will be able to work with iMessage, letting you edit images or even send payments from within the app.
Find local amenities mid-journey
As the title says, you can now search for local amenities like petrol stations mid-way through a journey.
Parking reminder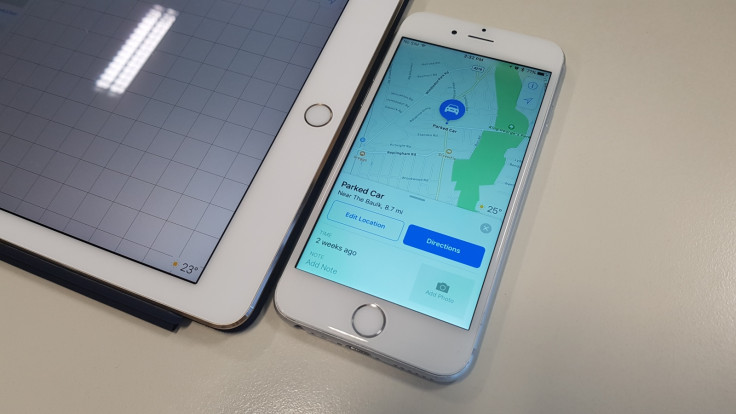 Your iPhone now knows when you are driving (even without using Car Play). Maps then uses this data to remember where you have parked. Upon leaving your car, the app pings a notification to the lock screen, complete with your car's location and the option to take a photo to further help you find it later.
Book a reservation and call a cab
With OpenTable and Uber integration, you can use the Maps app in iOS 10 to look up a restaurant, read reviews, check if it accepts Apple Pay, book a table and call an Uber, all without leaving the app.
Home app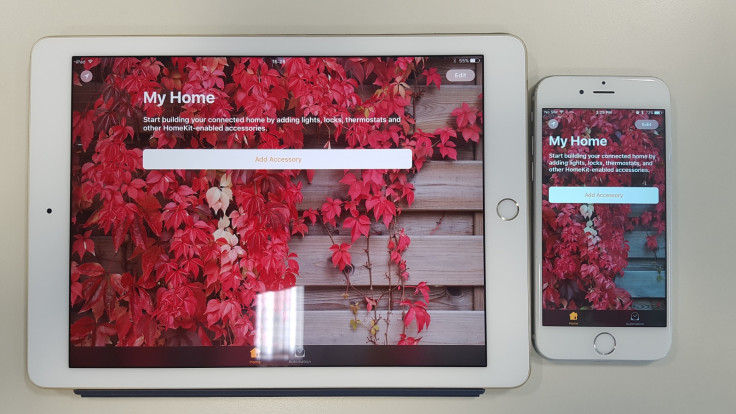 A one-stop-shop for controlling your automated household gadgets, the new home app can be used to switch lights on and off, adjust smart thermostats and more. Home uses Apple's Homekit software development kit to interact with your gadgets, letting you do things like switch all the lights off, close the curtains and lock the doors when you got to bed, all with one tap.
Search photos by content
As Google Photos has done for a while, the iOS Photos app now lets you search for photos using keywords. Search 'food' or 'dog' for example, and relevant photos will appear. It is a clever system which is surprisingly accurate.
Type in two languages at the same time
Once downloaded, multiple languages can be applied to the keyboard at the same time - and the clever bit: iOS 10's auto-correct function works just as well in both languages. You can write entirely in one or mix them up and the system continues to work as usual. Accents are also added automatically.
New keyboard and lock sounds
In iOS 10 the sound of the keyboard has changed. Letters all have the same tapping noise, but the space bar and function keys sound different, more closely mimicking the sound of a physical keyboard.
Contextual predictions
When writing a message or email, the keyboard will make contextual suggestions based on what you write. For example, type 'I'm free at' and the keyboard will offer to show your next available time slot, as found in the Calendar app.
Apple Pay on the web
As well as working with a tap in shops and on buses, Apple Pay can now be used in iOS 10 to pay for goods and services online. Purchases are authenticated by pressing your finger or thumb on the home button's Touch ID sensor.