Fresh rumours about the release date of Apple's next generation iPhone (the iPhone 6) have surfaced online, hinting at different screen sizes, a new IGZO display technology and 2GB RAM among various other hardware specifications.
However, some projections in the report do seem off-mark since the new Flat Panel Display (FPD) technology has never been used by Apple.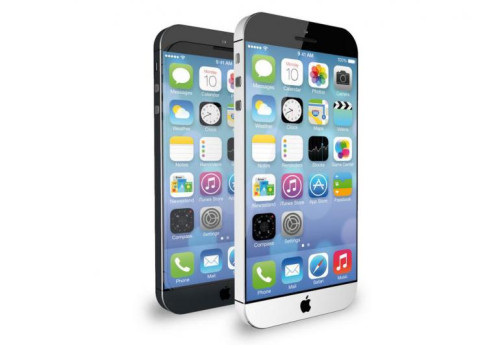 According to the report, the iPhone 6 will ship with two screen sizes, 4.7 or 4.8in and a 5.5in. Both the display variants are expected to support 1920 x 1080 (440ppi) and 2272 x 1280 (510ppi) screen resolution respectively and run on indium gallium zinc oxide (IGZO) technology instead of the low-temperature polysilicon (LTPS) technology found in current iPhones.
Though the claimed display sizes for the iPhone 6 seem to be consistent with earlier rumours, it is a contradiction that LTPS displays would be replaced with IGZO as LTPS offers greater battery-life and screen brightness.
On the flip side, IGZO is the preferred technology in the tablet market, given the limitations with creating LTPS displays of those sizes and their support for higher display resolution on larger screens.
In related news, the iPhone 6 is expected to get a considerable bump in RAM to 2GB along with an upgraded 3.2MP front facing camera. The rear camera is expected to retain an 8MP sensor found in current generation iPhones.
In addition, a new A8 chip and 128GB storage expansion slot are on the cards.
In a related report, a Chinese website citing Taiwan's industry chain claims that the rear camera will feature a 10MP sensor with an improved f/1.8 aperture. As the iPhone 5s currently features an 8MP sensor with f/2.2 aperture, it implies that the upcoming iPhone will port a completely new hardware and not just a sensor upgrade.
The second report further claims that the hybrid IR filters in iPhone 5s will be replaced with a resin lens filter made by a Japanese company JSR, as the latter has better colour correction and image clarity for CMOS sensors than the former.
Another questionable claim points to the rumoured mobile operating system, iOS 7.2, which is said to debut with the release of iPhone 6. This is a contradiction to Apple's tradition, as every new iPhone launch is accompanied by a major iOS release rather than a minor update.
iPhone 6 is likely to launch with iOS 8 onboard as this theory is supported by recently leaked web logs and various other sources showing evidence of an iWatch project connected to the iOS 8 debut release. Another point of interest is that there is hardly any proof of Apple's development work on iOS 7.2.
Furthermore, the speculated June launch window does not match with Apple's tradition of releasing its hardware products at the end of the third quarter or early into fourth quarter. Besides, the June release date for iPhone 6 is too early for an annual release cycle with Apple.
So, it is likely that Apple will continue to adopt a fall launch that has been the norm for three iPhone generations since iPhone 4s.