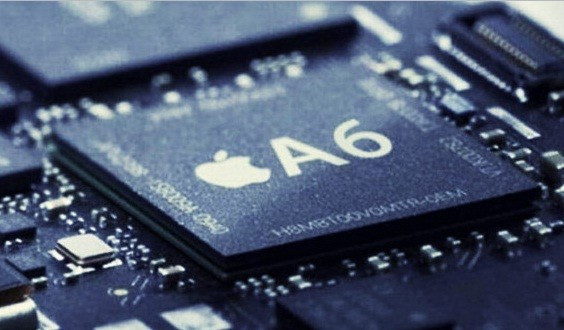 The power house of Apple's new iPhone 5 is the A6 chip featuring a dual-core processor with PowerVR SGX 54MP3 graphics unit. The processor is said to be running with a clock speed at 1.3GHz.
Apple boasts the A6 chip is designed to maximise performance while consuming less power. It possesses twice the processing power as well as graphics capabilities over the A5 chip used in iPhone 4S.
The A6 chip is said to be first SoC (System on Chip) to feature Apple designed CPU cores and it is second Apple SoC to be built using Samsung's 32nm LP High-K and Metal Gate transistors. Now a range of benchmark tests based on performance conducted by AnandTech reveal that the iPhone 5 with its dual-core A6 processor is indeed powerful when compared to its predecessor as well as to the rival high-end smartphones.
Starting with the SunSpider 0.9.1-the javascript benchmark test - when the sixth generation iPhone was tested against the previous iPhones - the device occupied first position scoring the lowest points at 908 (lowest points considered being better in the test).
In both BrowserMark (measures browser performance) and Geekbench 2 benchmark tests (measures the performance) the iPhone 5 scored highest points beating other iPhones including iPhone 4S, iPhone 4 and iPhone 3GS.
As far as the overall performance benchmark tests are concerned, Apple's new iPhone did relatively well. In the RIABench focus tests, which are javascript benchmarks focusing on various compute bound tasks, the iPhone 5 scored slightly more than Motorola's newly announced RAZR i which occupied the first position in the test. It should be noted that the lowest point is considered to be better in the test. However the iPhone beat HTC One X (US variant and the international version), Motororola Droid RAZR M and a few more. The results were once again same in the Kraken test, which is said to be a heavy javascript benchmark built by Mozilla.
The Google V8 (a javascript test which is alternative to SunSpider) and in the Google Octane benchmark tests, the iPhone 5 performed fairly well. Unfortunately the RAZR i scored highest points in both the test with iPhone 5 managed to retain the second position.
There are indeed some interesting results in the final two performance benchmark tests-SunSpider and BrowserMark-wherein the iPhone 5 was tested against more than two dozens of high-end smartphones. As the benchmark results suggests in both the tests iPhone 5 topped the chart defeating all the other rival smartphones including RAZR i, Galaxy S3 (international and US variants), HTC's all three One series phones (One X, One S and One V), Evo 4G LTE, Galaxy S2 LG Optimus G and Galaxy Nexus.