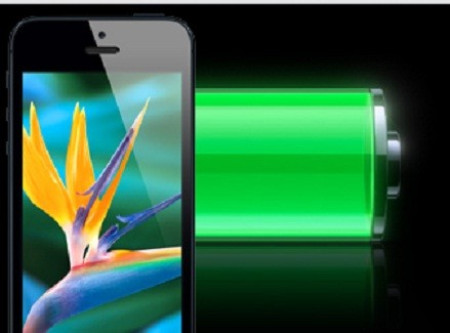 Apple claims that the battery in the iPhone 5 delivers talk time of up to eight hours on 3G, up to eight hours of Internet use on 3G and on LTE, 10 hours of internet on Wi-Fi and up to 10 hours of video playback.
Even though Apple has maintained secrecy over the battery specification, a teardown of the newest iPhone 5 has unearthed hidden details of the battery. As noted by iFixit, the iPhone 5 uses a 5.45 watt hour battery which is of 1440mAh whereas the iPhone 4S has a 1432mAh battery and the Galaxy S3 has a huge battery of 2100mAh.
A battery test by GSMArena shows that the 1440mAh battery inside the iPhone 5 delivers impressive battery life and is indeed capable of meeting users' demands.
Starting with the talk time battery test, the iPhone 5 was tested against a number of high-end Android powered smartphones. The iPhone 5 survived up to eight hours and 42minutes whereas Motorola's RAZR MAXX lasted up to 21 hours and 18 minutes occupying the first position in the chart.
Rival phones such as the Galaxy S3 and the HTC One X in the same test delivered talk time of up to 10:20 hours and 9:57 hours respectively. The iPhone 5 managed to beat its predecessor, Galaxy S2, and even the LTE version of Galaxy Note and a few others.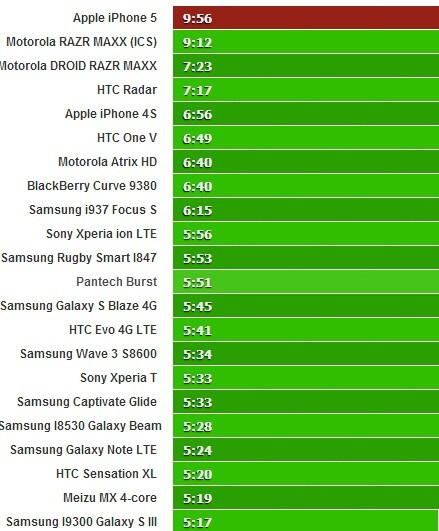 Coming to the web browsing test, the iPhone 5 tops the list beating RAZR MAXX and all other smartphones. Apple's sixth generation iPhone delivered an impressive web browsing experience by lasting up to nine hours and 56 minutes which is 44 minutes more than the RAZR MAXX running on Ice Cream Sandwich version.
In the video playback test, once again Apple's claim turned true: the device lasted up to 10 hours and 12 minutes, six hours and 23 minutes less than the video playback of the RAZR MAXX. The iPhone 5 in the test secured the third position defeating all rival smartphones.
What the endurance test suggests is once the iPhone 5 is charged it can stay up to 51 hours.